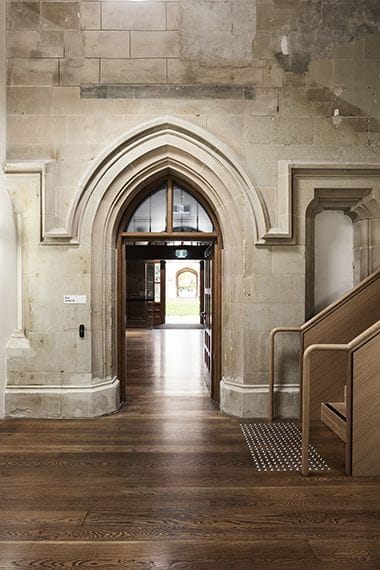 Add to Itinerary
Old Quad
Architect: F.M White 1857, Reed and Barnes 1875, Gawler and Drummond 1930, Rae Featherstone 1970, Lovell Chen 2019
With iconic archways and a bold architectural presence, Old Quad is the oldest building on the Parkville campus and the strongest connection to the University's fledgling years. A key architectural figure in Melbourne's history, Old Quad is also the first university building in Australia; its foundation stone laid on the same day as the State Library of Victoria. It has been recently restored to reaffirm its place as the cultural, civic, engagement and ceremonial heart of the University.
Originally built in classic Tudor style, the building has supported and sustained the University's growth over the past 160 years. It has a rich history as the first site for Arts and Law teaching, the University library, Council Chambers, and professorial residence.
The Old Quad's new chapter is a recently completed extensive restoration project of the North Wing and Annexe. The north accommodates a stunning new point for entry with large-scale stained-glass installation, Towards a glass monument, by artist Tom Nicholson, accompanied by six plaque texts that contextualize the work's imagery.
Photo 1–2: Eve Wilson, 3–7: Christian Capurro
WATCH
Discover the heritage redevelopment of Old Quad with Anne-Marie Treweeke, Principal – Architecture, at Lovell Chen.
Take a virtual tour inside the recently redeveloped Old Quad on the Parkville Campus of University of Melbourne.
SPEAKER
SERIES
Anne-Marie Treweeke, Practice Principal, presents the Old Quad redevelopment, University of Melbourne, Parkville from Lovell Chen for the 2020 Speaker Series.
FURTHER
READING
Explore the digitized copy of the catalogue for the official reopening of Old Quad, 2019. Important Details
WHAT'S ON
ONLINE EVENT
As part of this year's Speaker Series, Anne Marie Treweeke, Practice Principal at Lovell Chen presented the University of Melbourne's Old Quad redevelopment. Scroll below to view or click link to watch on YouTube.
MISSED IT?
Catch up and watch below or on YouTube.