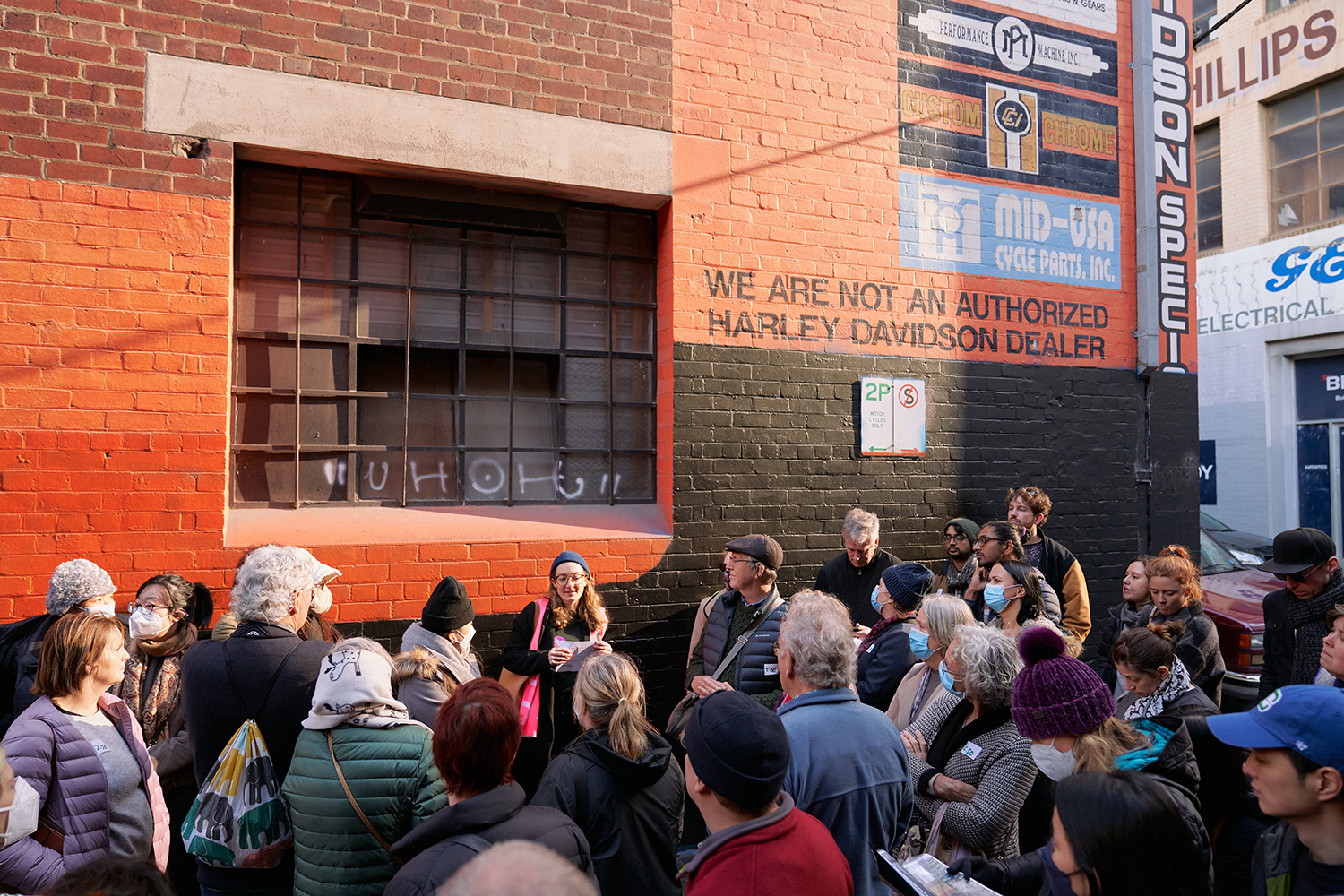 Expressions of Interest for OHM 2023
Posted Tue 29th Nov 2022 | Isabella Radevski
Update: Expressions of Interest for the OHM Weekend 2023 have now closed.
Big thanks to everyone who has submitted a proposal for this year's Weekend! Successful applicants will be notified with next steps by COB Thursday 6 April.
If you didn't make a submission for this year's program, keep an eye out for the 2024 EOIs later in the year.
---
Open House Melbourne Weekend
Saturday 29 + Sunday 30 July 2023
Theme: Collective City
Deadline: 5pm Wednesday 1 March 2023
The theme that the Open House Melbourne July Weekend 2023 will explore is Collective City.
Collective City invites you to respond to a simple yet challenging question. As Melbourne expands to reach a projected population of 8 million by 2050:* How will we reinvent, re-purpose and adapt our city to live better together?
In the urban context, being connected has never been better in the digital age. Many citizens have access to reliable internet providing access to data and information and new modes of meeting; we enjoy the convenience of food delivery, support services and entertainment via subscription models; and increased flexibility in the workplace via co- share spaces, online platforms and distributed modes of working and learning. Critically, we are witnessing a movement that explores new modes of living together beyond the focus of the single-family suburban house, and a long overdue political investment in public housing that is so urgently needed to address the housing crisis and affordability.
Yet, despite this connectivity and movement towards collective agency, the gap between those in our society who have access and those who are excluded continues to widen causing a deep division between our individual experiences of the city. Creating a more equitable city is complex and nuanced, moving across the boundaries of gender, culture, employment, poverty, geography, physical and non- physical disability, neuro diversity, mental health and homelessness.
In her essay titled The Relationship is the Project, Arts Access Victoria CEO Caroline Bowditch writes: 'Access gets you in the door, inclusion is what happens when you get there.'** Caroline's statement resonates with the importance for designers and expanded spatial practitioners to move beyond a fixed view of access and universal design principles and interface with other practices, researchers and lived experience to respond to the complexities required in creating a more equitable city for everyone. As Caroline suggests, collectively 'we all have a role and responsibility to play'.
Collective City invites program partners, architects, urban, landscape and interior designers, building custodians along with creative practitioners across disciplines to explore positions, perspectives and projects that speak to the power of collective, adaptive and responsive design approaches in creating a more equitable, accessible and inclusive city.
In responding to the theme, consider the following key questions: How do we design the city to be 'radically welcoming' and foster belonging and inclusion for all citizens? How can we learn from and register Indigenous knowledges in our city and design with Country? If traditional divisions between home, work and leisure are rapidly blurring, how does that impact the design of public and private space? How can new and adaptive models of housing be rapidly scaled to address the crisis in affordable housing? How do we support sustainable building practices and net zero outcomes while ensuring quality, equity and affordability? How can we re-use the existing city fabric to re-purpose and adapt our city's buildings for new and urgent uses?
In response to the Collective City theme, the Open House Melbourne team invites you to submit your proposal for a tour, event, talk, workshop or creative program for inclusion in the Open House Melbourne July Weekend 2023.
Although our intention is to pursue an 'in person' program in 2023, the Open House team encourages proposals for physical and/or digital events as we continue to extend our commitment to hybrid programming creating greater access to our program for all.
---
Please get in touch with any questions:
Isabella Radevski, Program & Communications Manager
isabella.radevski@ohm.org.au
Helen Sweatman, Business & Operations Manager
helen.sweatman@ohm.org.au
---
Footnotes:
*https://cur.org.au/project/melbourne-8-million-matching- land-supply-dwelling-demand/
**See also Arts Access Victoria website https://www. com.au/