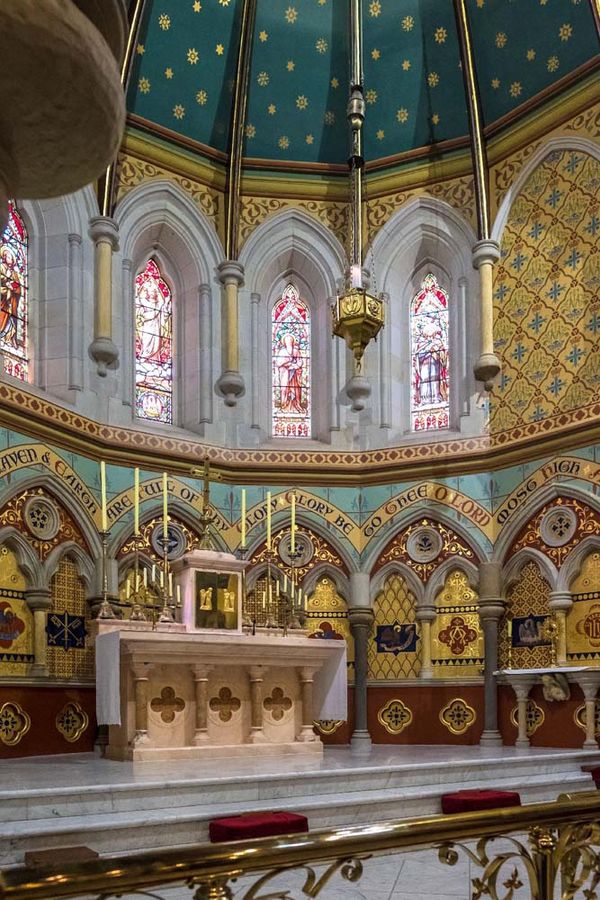 All Saints Church East St Kilda
Description
Made of imposing bluestone, All Saints Church is the largest and one of the most decorated churches in Melbourne. Construction commenced in 1858 and continued over three principal phases concluding in 1892. Throughout its life, the church has added to its extensive decorative scheme. Highlights include: its detailed stencil work; a significant collection of 18th and 19th century French and Italian copies of the masters; a large and exquisitely carved memorial screen; a pair of imposing gas lamps from St George's Chapel, Windsor; a 19th century Venetian mosaic; and a life-size Crucifixion scene, the only work in Australia by English Arts and Crafts sculptor Alec Miller.
What's On
Visitors are free to explore the space independently or avail themselves of tour guides. The Sunday morning worship features the All Saints Choir.
Images: (1) Church sanctuary. (2) Western facade of the church from Chapel Street. (3) Church nave. (4) Chancel and sanctuary with the Saint George's Chapel, Windsor, gasoliers. Photo courtesy All Saints Church East St Kilda. Photos (1-3): David Mullins.
Important Details
Time & Date
Saturday 30
Open 10am-4pm

Sunday 31 July
Worship featuring All Saints Choir, 10am. Visitors welcome
Open 11am-4pm

Representatives available for informal tours in the church on both days.
Age Requirements
All Ages
Accessibility
Partially wheelchair accessible

Location
2 Chapel Street, St Kilda 3182