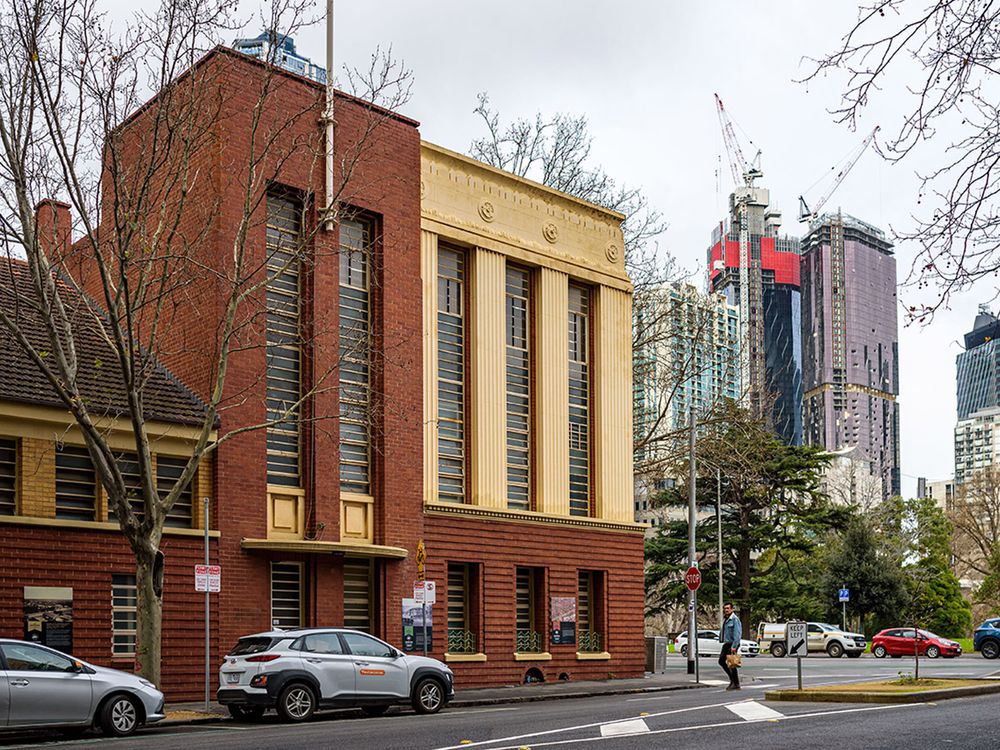 Army Medical Corps Drill Hall
Description
The featured materials in this late 1930s art deco building are high quality brick and plaster work with strong vertical and horizontal lines, fluted pilasters, arches, keystones, coffered ceilings, built-in seats and Dutch (or stable) doors.
Functional and utilitarian, the building has two large drill halls with offices along their northern side. The halls are separated by a public entrance foyer which leads off A'Beckett Street. Messes are placed at the centre – for sergeants – and at the east and west ends of the building – for 'other ranks' and officers respectively.
The drill hall had a number of functions: as an indoor parade ground for marching and equipment drill; a gymnasium and for physical training; a social centre offering activities such as dances, film nights etc, and for displays. The mezzanine (the ceiling of a row of offices) allows for observation of the activities on the floor of the hall. The ceiling design itself is reminiscent of suburban cinemas of the time.
By 1990 the Army Medical Corps Drill Hall had been added to the Historic Building register for its state-wide architectural and historical significance. The western end of the building became the premises of the Royal Historical Society of Victoria in August 1999.
What's On
Guided tours led by historians will take in the drill halls and Officers Mess (and bathroom with original 1938 tiling) with their art deco detail and built-in furniture and the more utilitarian armoury. Enjoy a provided morning or afternoon tea in the Drill Hall before your tour commences.
Images: (1) Exterior of Drill Hall facing Flagstaff Gardens on corner of William & A'Beckett streets. (2-3) Interior Officers' Mess showing wood panelling, bar, ceiling reminiscent of 1930s cinemas and fireplace. (4) Interior looking down into a drill hall from mezzanine which is accessed from the Sergeants' Mess. (5) Exterior showing detailed brickwork and window bars. All images supplied.
Important Details
Time & Date
Sunday 31 July
10am-4pm
Tours run every 30 minutes
Running for 25 minutes in groups of up to 12 people
Bookings not required. Tour group capacity is limited and operates on a first come, first in basis.
Age Requirements
All Ages
Accessibility
Accessible bathroom
Partially wheelchair accessible
No lift

Location
239 A'Beckett St, Melbourne VIC 3000