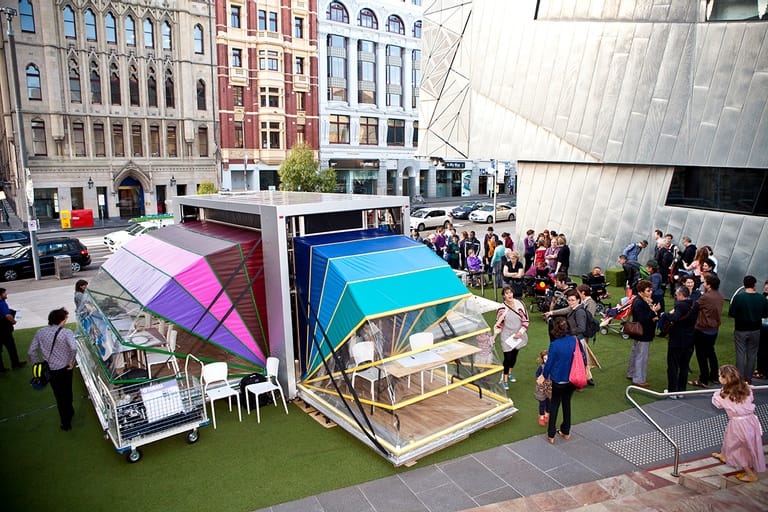 Arts Access Victoria
Building Description
In place of Thrive Festival, which has evolved to suit COVID-19 restrictions, Arts Access Victoria presents Thriving Fridays, a program of exhibitions, activities and performances from local Deaf and Disabled artists in Emerald Hill (South Melbourne). This program of events is held at several creative venues, including Arts Access Victoria, Temperance Hall, Gasworks Art Park, Australian Tapestry Workshop, Emerald Hill Library and Heritage Centre, South Melbourne Markets, Ignition Immersive and more! At the heart of the festivities is Arts Access Victoria's accessible, state of the art portable venue, Nebula, which will be located outside the front of the South Melbourne Town Hall.
The program includes artists Joe Monteleone, Heidi Everett, Samsara Dunston, Adam Knapper, Hugh McNab, Ryan New, Daniel Coulson, Dave Houston with students from Port Phillip Specialist School, Sabina Knox, and more!
See a glimpse of what is on offer in our Thrive Digital introduction from Saturday 24 July, on the AAV youtube channel, hosted by Arts Access Victoria CEO Caroline Bowditch and Creative Producer Sarah Houbolt.
Thriving Fridays is produced by Arts Access Victoria, in partnership with City of Port Phillip.
ONLINE EVENT
Live Broadcast via https://www.artsaccess.com.au/open-house/
Saturday 24 July
1pm – 2pm
FREE, no registration required
Victoria's peak body for arts and disability
(1) Nebula – the Thrive Festival stage, (2) Arts Access Victoria, 222 Bank Street, South Melbourne (3) Thrive Festival Poster, designed by Sabina Knox.
Important Details
Preview works created as part of the Thrive Creative Grants program
ONLINE EVENT
Live Broadcast
Saturday 24 July
1pm – 2pm
FREE, no registration required
Time & Date
Broadcast
Saturday 24 July
1pm
Booking not required

More information is available at: https://www.artsaccess.com.au/open-house/
Accessibility
Closed Captions
Audio Descriptions
AUSLAN interpreted

Location
222 Bank Street, South Melbourne 3205