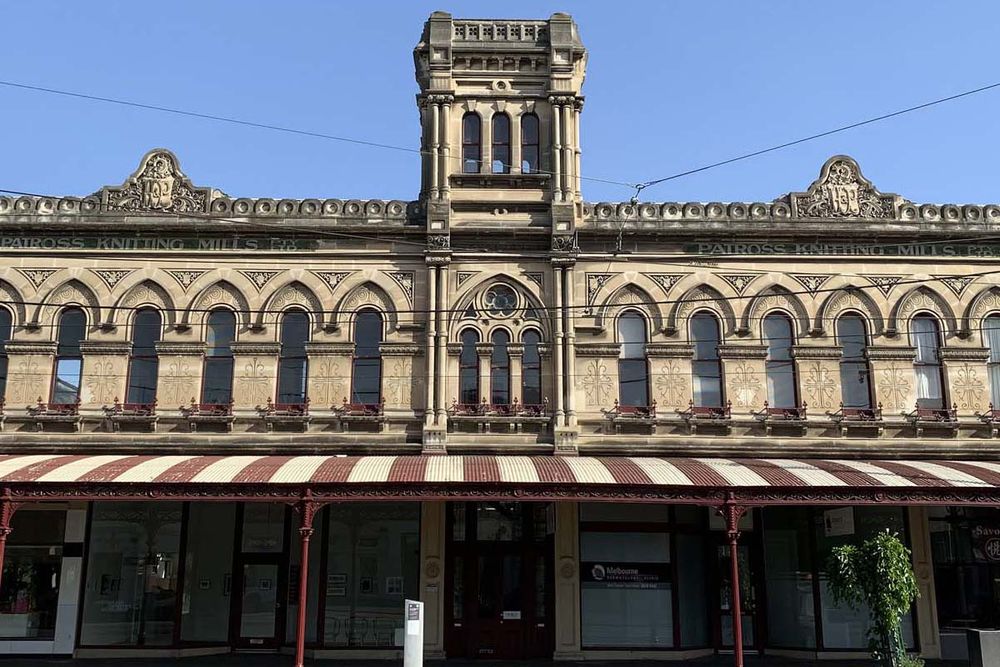 Australian Tapestry Workshop
Description
Established in 1976, the Australian Tapestry Workshop (ATW) has a worldwide reputation for the creation of contemporary tapestries in collaboration with living artists and architects. The ATW occupies a unique National Trust and heritage-listed building in South Melbourne. It is one of the finest examples of commercial buildings of the 1880s in inner suburban Melbourne and a distinctive example of Victorian Free Gothic architecture style. The building was erected in 1885 and renovated in 1976 and 2001.
ATW Gallery
Victoria Manganiello: Material Technology explores intersections between materiality, technology, geography and storytelling through traditional textile-based media alongside technological interventions and e-textiles. Victoria Manganiello is a textile artist, educator, producer and collaborator based in Brooklyn, New York, and an artist in residence at the ATW in 2022. 
What's On
Visitors will have special access to the tapestry studio floor and can observe weavers working on large-scale contemporary handwoven tapestries. Galleries feature completed tapestries and contemporary textiles, and visitors can view the colour laboratory where the yarns are dyed for production.
Choose from talks with ATW guides and weavers to learn about the history of the building and the process of weaving a tapestry; join artist in residence Octora for a free workshop to make your own collage with photos printed on fabric and embroidery; artist in residence Isabel Deakin of Kin Workshop leads a free workshop to make your own geometric felt necklace; or simply take a self-guided wander through the spaces.
Children's activities
Join ATW weavers for free drop-in weaving activities for kids.
Images: (1) Australian Tapestry Workshop Exterior. Photo ATW. (2) Australian Tapestry Workshop Studio Floor. Photo by Jeremy Weihrauch. (3) Australian Tapestry Workshop Studio Floor. Photo by Jeremy Weihrauch.
Important Details
Time & Date
Saturday 30 July
10am–4pm, open access

Guide & Weaver Talks
10.30am, 12.30pm, 2pm and 3pm
Running for 30 minutes
Kids Tapestry Weaving
Drop in from 10am–1pm & 2pm–4pm
Weaving Play
Drop in from 10am–4pm
Bookings not required, capacity limited for these talks and workshops.

Felt Necklace Workshop
Three sessions: 10am, 12.30pm & 3pm. 1 hour.
Bookings essential for this workshop only.
Age Requirements
All Ages
Accessibility
Partially wheelchair accessible

Location
262-266 Park Street, South Melbourne 3205