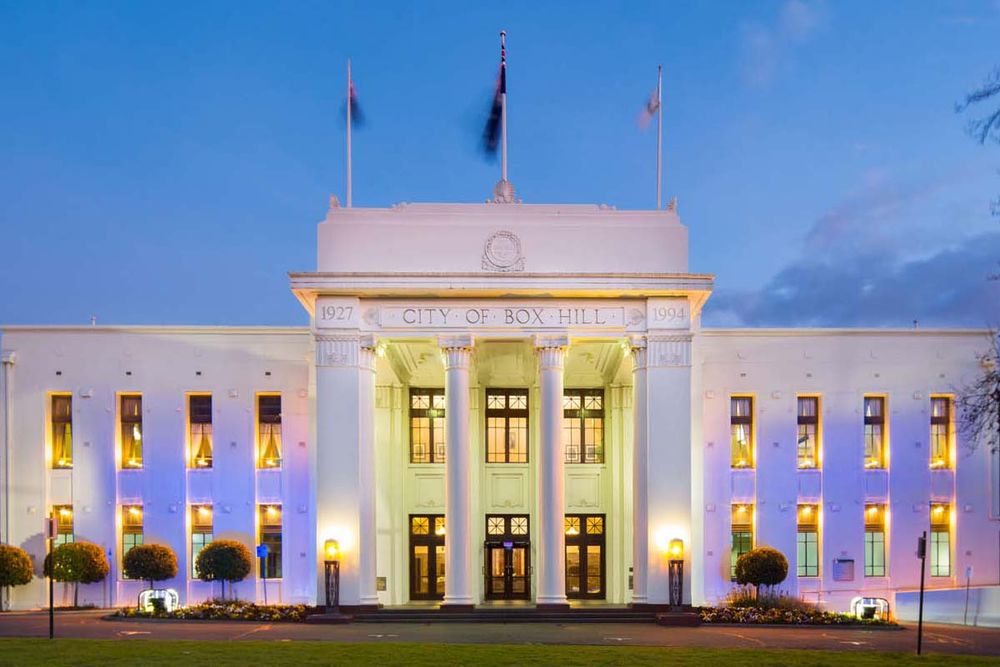 Box Hill Town Hall
Description
Box Hill Town Hall is a commanding landmark within the City of Whitehorse, in Melbourne's eastern suburbs. Built before WWII the building houses the old Council Chambers (appearing in many TV series and feature films), the grand Main Hall as well as several majestic function rooms, the Whitehorse Artspace gallery and the Community Hub, home to 17 not-for-profit organisations including the Box Hill Historical Society.
What's On
Former mayor, councillors and staff will be on hand for tours and historical knowledge. The Historical Society will exhibit photos of buildings, housing and architecture from the area over the decades. A second hand book fair will be held on the Sunday as a fundraiser for the Historical Society. Artspace Galley is open with "Town and Country" artworks from the Whitehorse Art Collection and community artists.
Images: (1) External view of the town hall from front lawn. (2) Old Chambers. (3) Main Hall. (4) Artwork credit: 'What She Wants' by Peter Lyssiotis. All images courtesy Whitehorse City Council and Box Hill Town Hall
Important Details
Time & Date
Sunday 31 July
Open access from 9.30am-4pm
Book Sale 10am-3.30pm
Guided tours run 10.30am, 2.30pm. Running for approx. 45mins.

Bookings not required. Tour group capacity is limited and operates on a first come, first in basis.
Age Requirements
All Ages
Accessibility
Accessible bathroom
Partially wheelchair accessible

Location
1022 Whitehorse Road, Box Hill 3128