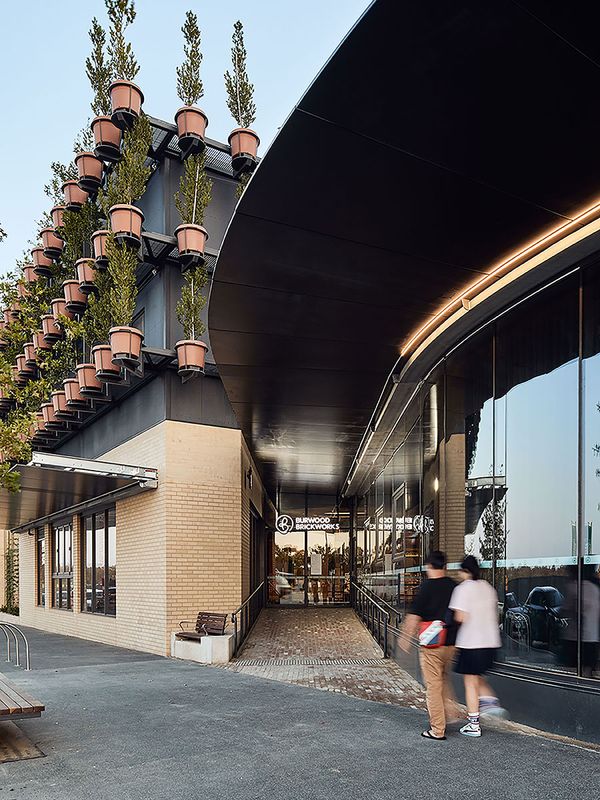 Burwood Brickworks
Description
Burwood Brickworks is the world's first Living Building Challenge (LBC) Petal certified shopping centre. The LBC takes a holistic view of sustainability; the driving principle of the challenge is to create a building that gives back more than it takes. Equal weight is given to the more traditional tenets of sustainable architecture, such as energy and water, alongside principles that are less often considered such as health and happiness, equity and beauty. These principles not only shaped the design, they led the project team to consider what the experience of a suburban shopping centre could be beyond 'business as usual' expectations.
The challenge demanded a rigorous process for selecting materials. The team worked with contractors, suppliers, and retail tenants to vet the environmental performance of each material, taking into account its embodied carbon and impacts on waste and air quality. NH Architecture's work contributed to the creation of the 'Greensheet', an open-source resource listing 1400+ construction materials.
A key feature of the site is a large-scale artwork for the saw tooth ceiling of the central mall produced by Wurundjeri-willam artist Mandy Nicholson in collaboration with the architect.
Burwood Brickworks has been recognised with multiple awards, including The Allan and Beth Coldicutt Award for Sustainable Architecture at the 2021 Victorian Architecture Awards.
What's On
Architect-led tours through the site, focusing on the regenerative and biophilic design elements and the environmental credentials of the materials. Each tour will take in the rooftop farm and urban plaza, discussing how the operational and mechanical elements of the building were balanced with the imperative to create beautiful and human scale environments that encourage community, wellbeing and connection with nature.
Images: (1) Entrance from Foundation Boulevard. (2) Acre Farm and Eatery. (3) Internal Stairs. (4) Acre Farm Eatery. (5) Ceiling mural by Indigenous artist Mandy Nicholson. (6) Acre Farm. (7) Foundation Boulevard façade. (8) Interior feature light installation. (9) Internal mall. (10) Aerial View. Photos 1-4, 6, 8: Peter Bennetts. Photos 5, 7, 9-10: Dianna Snape
Important Details
Time & Date
Sunday 31 July
Tours run 10am & 11am
Running for 40 minutes in groups of 20 people.
Bookings not required. Tour group capacity is limited and operates on a first come, first in basis.
Age Requirements
All Ages
Accessibility
Fully wheelchair accessible

Location
70 Middleborough Rd, Burwood East 3151