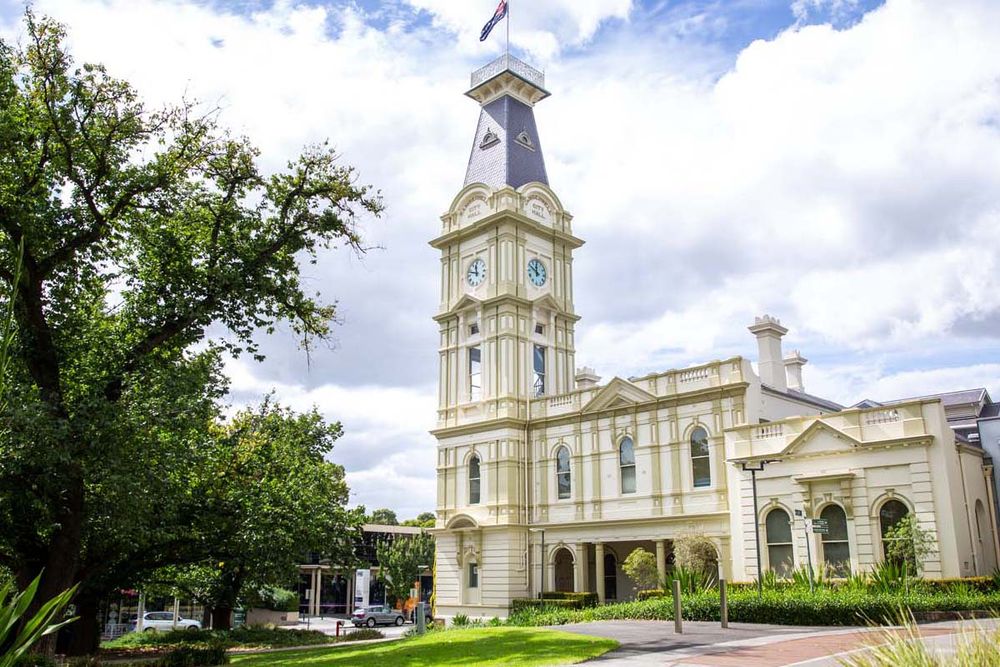 Camberwell Civic Precinct
Description
The precinct has been home of Boroondara Council services since 1890, and comprises three buildings steeped in rich architecture, heritage and social history.
The original Camberwell Town Hall (architect James Gall) was built in 1890-91 facing Camberwell Road for an expenditure of £10,000. Its imposing stucco hall and 30 metre-high lofty clock tower has been a striking feature of the Camberwell skyline for over 130 years.
Throughout the early 1900s several alterations were undertaken to adapt the building to meet the evolving needs of the community, including the inclusion of additional council office space and alterations to the original shire hall backstage area. In 1924 architects Irwin and Stevenson designed a Néo-Grec building which provides a sympathetic and discrete extension of the original hall.
In 1975 planning began for new council offices with the second and third buildings opening in 1978, designed by mid-century modern architects Mockridge Stahle and Mitchell. The striking precast white reconstructed stone structural frames and round header windows are an ode to the original town hall.
Today the site is home to Boroondara Council's head office, incorporating the council chamber, library and function rooms, as well as housing the majority of council staff.
What's On
Tours and children's programs.
Children's activities
Kids can play along on the OHM tour, with an interactive game of 'I spy'. Across the civic site and woven within the tour itself, kids are invited to join a treasure hunt, finding the hidden secrets of the building with visual and audio cues. The whole family can have fun learning on the tour together!
Images: (1) Camberewll Town Hall. Photo: James Thomas, courtesy of City of Boroondara. (2) Camberwell Civic Precinct. Photo: James Thomas, courtesy of City of Boroondara. (3) Camberwell Civic Precinct, customer service entry. Photo: James Thomas, courtesy of City of Boroondara. (4) Camberwell Library study area. Photo: James Thomas, courtesy of City of Boroondara.
Important Details
Time & Date
Saturday 30 July
Tours run 11.30am, 12.45pm, 2pm, 3.15pm
Running for 40 minutes in groups of 25 people
Bookings not required. Please arrive at the meeting point 10 minutes early as tour group capacity is limited and operates on a first come, first in basis.
Age Requirements
All Ages
Accessibility
Fully wheelchair accessible
Accessible bathroom
Quiet rooms
Social Story

Location
8 Ingelsby Road Camberwell VIC 3124