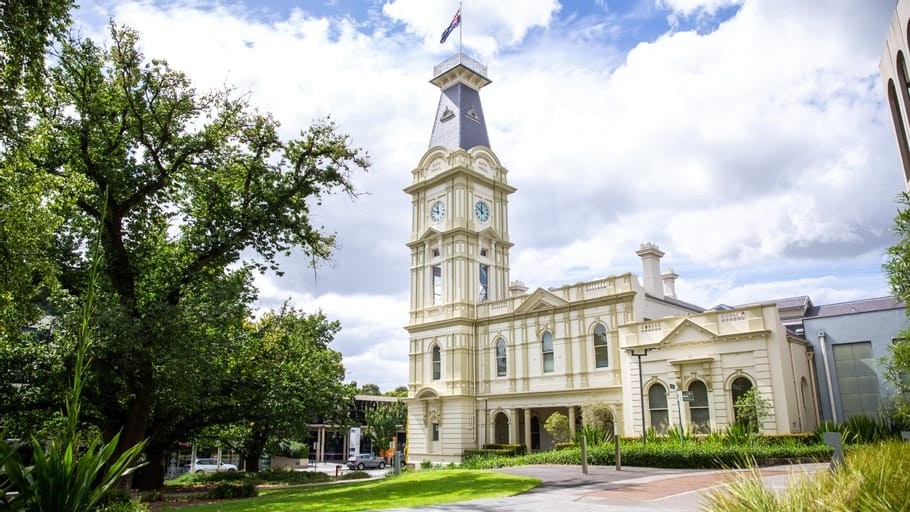 Camberwell Civic Precinct
Building Description
The Precinct has been home of Boroondara Council services since 1890, and compromises of three buildings steeped in rich architecture, heritage and social history.
Designed by local architect James Gall, the original Camberwell Town Hall was built in 1890-91 facing Camberwell Road for an expenditure of £10,000. It's imposing stucco hall and 30 meter-high lofty clock tower has been striking feature of the Camberwell skyline for over 130 years.
Throughout the early 1900s several alterations were undertaken to adapt the building to meet the evolving needs of the community, including the inclusion of additional council office space and alterations to the original shire hall backstage area. In 1924 architects Irwin and Stevenson were engaged to extend the original hall, and designed a neo-Grec building which provides a sympathetic and discrete neighbour to the original town hall.
In 1975 planning began for new council offices with the second and third buildings opening in 1978, designed by mid-century modern architects Mockridge Stahle and Mitchell. The striking precast white reconstructed stone structural frames and round header windows are an ode to the original town hall.
Today the site is home to Boroondara Council's head office, Council Chambers, Library and function rooms.
What's On
Boroondara Arts and Library Service invites you to a live online presentation about the Camberwell Civic Precinct.
During the presentation we will discuss the evolution of the Camberwell Civic Precinct celebrating the many ways this building has been a part of our community since the 19th century.
Images: (1) Courtesy of Boroondara Libraries, (2) Photo: James Thomas, (3-5) Photo: Stephen McKenzie, (6) Photo: Zarleen Blakeley.
Important Details
Time & Date
ONLINE EVENT
Live Presentation
'Inside online: Camberwell Civic Precinct'
Saturday 24 July
11am – 12pm
This event is now complete. If you want to revisit the talk, scroll below or view the video directly via YouTube:
WATCH HERE
Location
8 Inglesbury Road, Camberwell 3124