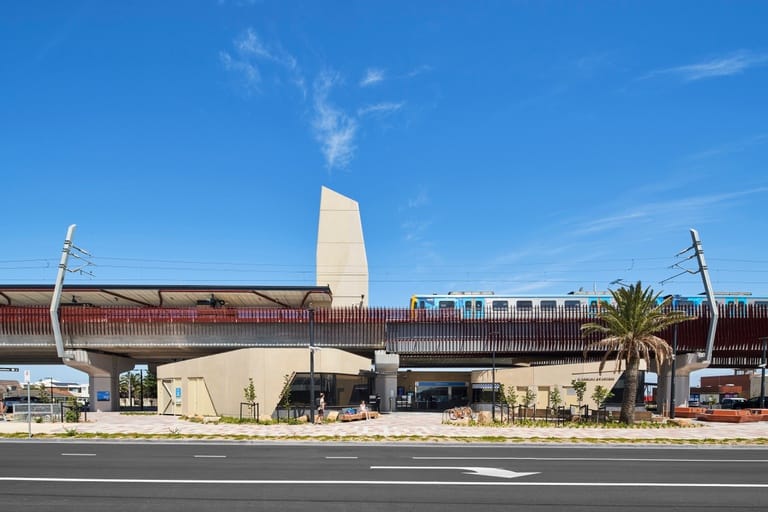 Carrum Station
Building Description
Carrum Station's design extends a coastal expression from the beachfront, into the heart of Carrum and provides a distinctive marker for the precinct. The building forms draw upon the eroded coastal character of the beach, evoking the effects of wind and water on the dunal landscape.
The Frankston rail line traces ancient indigenous movement paths. There are a number of meaningful cultural sites located within the Precinct and it was paramount within our design response to recognise and embed cultural and community connections. Traditional owners co-designed a range of spaces including the Karrum Karrum Bridge across Patterson River; the yarning circle; and the 12-metre-high 'urban marker' inspired by Bunurong cultural patterns including the wedge-tailed eagle, or Bunjil, spiritual creator of the bay.
The station's material palette is natural, featuring concrete, steel, glass, stone, aluminium and timber, with warm colours and textures used as highlights. Airy, light-filled canopies reference beachside parasols and nautical ropes, platform furniture is bespoke and uncluttered and materials echo the coastal characteristic of the area. Careful balance is struck between the station materials chosen for longevity and robustness and softer, warmer materials that contribute to an inviting environment.
What's On
Join representatives from the design team – COX Architecture and WSP Partners to discuss their vision and process for this award-winning precinct.
Saturday 24th July
Join Andy Hayes from Cox and Justin O'Shea from WSP
Sunday 25th July
Join Jonathan Gardiner from Cox and Bernadette Fitzgerald from WSP
Important Details
Time & Date
Location
Johnson Ave and Nepean Highway, Carrum 3197