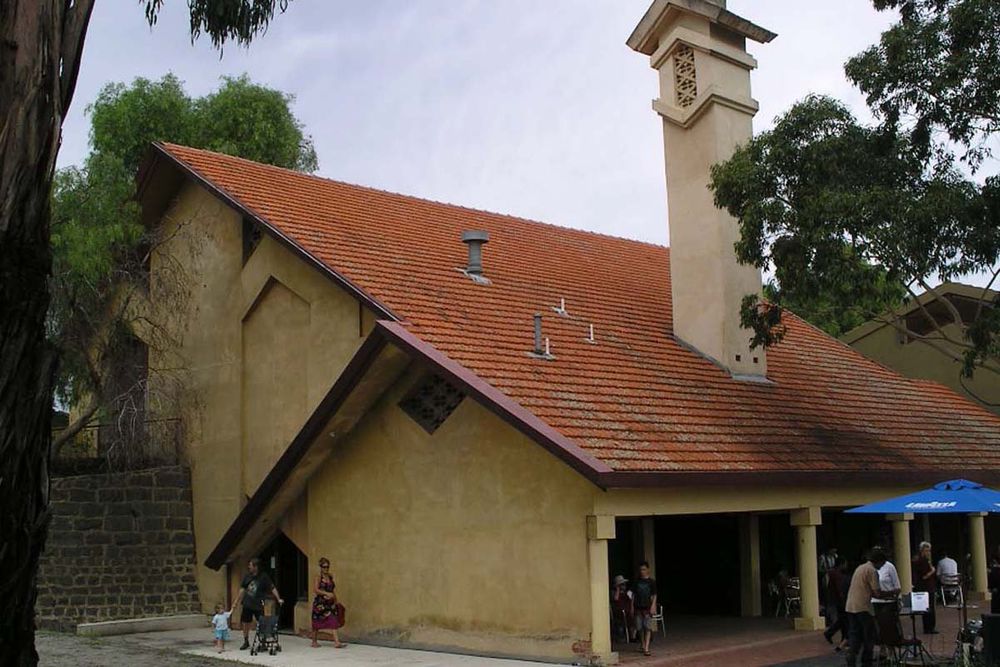 Essendon Incinerator
Description
The Essendon Incinerator is regarded as a significant building by the National Trust for setting new standards for municipal architecture and its integration into suburbia.
From the 1860s as the local population grew, the site was used as a rubbish tip and referred to as the Rattery. With the stench of refuse including rotting carcasses, flood waters regularly carried the rubbish downstream, prompting its regular lighting with kerosene and being let burn for days at a time. Local residents were overcome with smoke and demanded better. As the Spanish Flu heightened the community's awareness for waste to be disposed of in a sanitary way, residents advocated for a purpose-built facility that would fit in with the local character. Walter Burley Griffin and Marion Mahoney were commissioned to design the building in collaboration with local engineer John Boadle who patented the Reverberatory Incinerator (Refuse Incinerator and Engineering Co. RIECo).
The striking building functioned as intended from 1929 to 1942 then became a storage facility for council machinery and fell into disrepair. Under consideration for destruction, the building's cultural significance was recognised by the Heritage Council of Victoria in 1972. Community input saw the building revitalised as a performing and community arts venue.
Since 2011 it has functioned as the Incinerator Gallery with a changing program of contemporary art exhibitions and opportunities for visitors to engage with art and culture.
What's On
Discover the unique story of the Essendon Incinerator and its architectural, environmental and technological history. Staff and volunteers will be on hand to answer your questions and provide information about the spaces.
Images: (1) Incinerator view. (2) Incinerator Architectural Drawing. (3) Incinerator view. (4-5) Essendon Gazette. All images courtesy Moonee Valley City Council.
Important Details
Time & Date
Saturday 30 + Sunday 31 July
11am to 4pm
Ad hoc tours - no bookings required
Age Requirements
All Ages
Accessibility
Fully wheelchair accessible
Accessible parking nearby
Accessible bathroom

Location
180 Holmes Road, Aberfeldie 3039