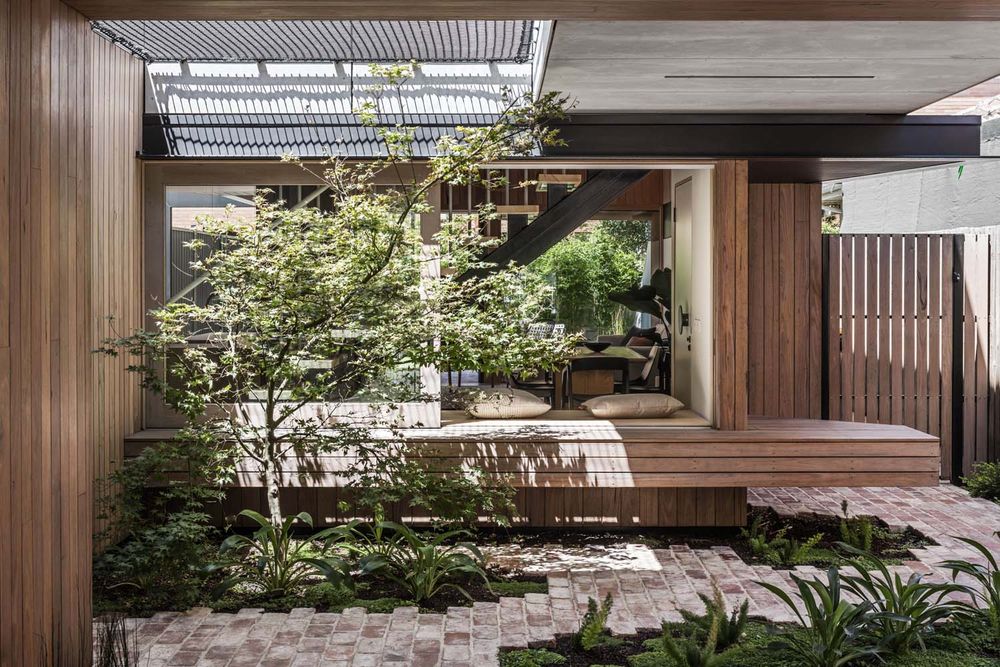 FIGR Pop-Up House
Description
The architects' approach to the domestic container was to use a simple extrusion of the neighbouring vernacular silhouette. The extrusion was elevated from the ground and sat on top of an arrangement of programs on the ground floor. The building envelope is reduced to its simplest form removing eaves and decorations. Subtractions in the envelope create openings and a central courtyard which opens the long extrusion to light and program amenity. At the rear of the extrusion the envelope is sliced to reduce the bulk of the building and establish a single storey elevation to the backyard. When presented from the street the elevation is an extruded silhouette representing a sympathetic nod to the familiar roof forms of the surrounding vernacular. The external weatherboard cladding is a reference to the old house and its context. The designed outcome is as much about the atmosphere and spaces within the house as it is about the connection of those spaces to its surroundings. From the outset the clients felt their new home had to establish a dialogue with the context beyond the site boundary creating a visually engaging public setting where neighbours and friends can be part of informal gatherings.
What's On
Small group tours led by the architects who will discuss their approach to the design and how they managed the client brief/expectations.
Images: (1) At the rear, sliding windows open to the covered central courtyard planted with a Japanese maple tree. (2-3) Views of the front facade showing openings via operable door elements. (4) A double-height void opens up from the courtyard, puncturing the centre of the house. (5) Cabinetry features in the generous kitchen. All photos: Tom Blachford
Important Details
Time & Date
Saturday 30 July
Tours run 11am-3pm
Running for 15 minutes in groups of 15 people.
No bookings required. Tour group capacity is limited and operates on a first come, first in basis.
Age Requirements
12 years and above
Accessibility
Partially wheelchair accessible

Location
20 Nicholson Street, Essendon 3040