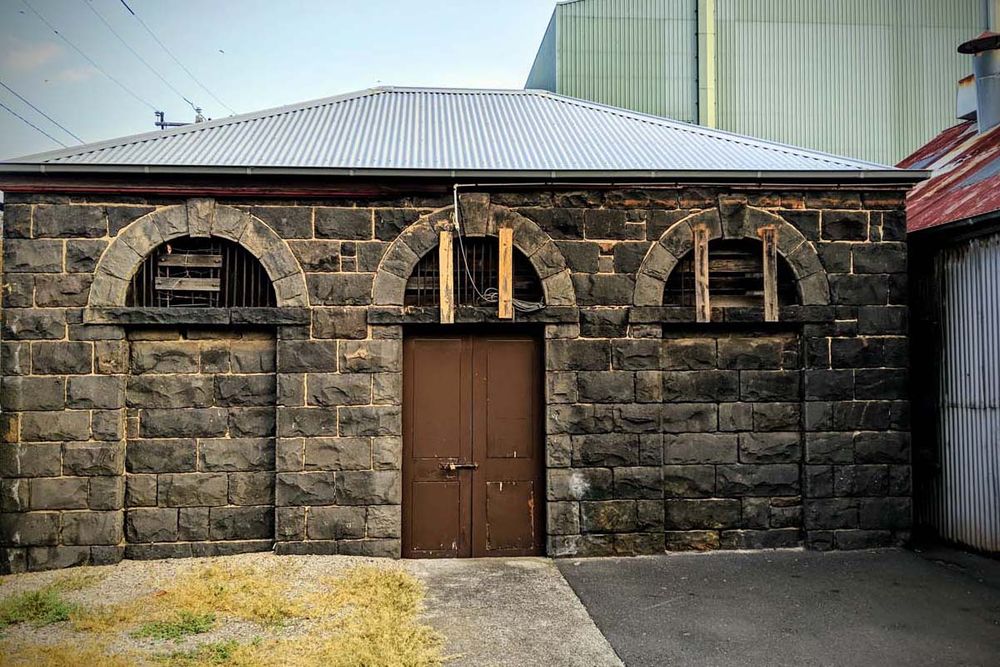 Former Williamstown Morgue – Seaworks Maritime Museum
Description
The Former Morgue in Williamstown is a coursed bluestone structure built in 1859 near Gem Pier, where the overflow from the autopsies could be swept into the sea. Bodies were encased in hessian bags and hung out of reach of rats.
It features a hipped corrugated galvanised iron roof (although originally clad in slate) and galvanised iron downpipes and gutters. It is a single storey, Georgian style, one room building with an arched entrance, rusticated voussoirs, prominent keystone, quoins and stone lintels. Rectangular in plan, the internal bluestone walls have been white-washed but all panelled doors, hasp, stables, hinges and timber roof framework are original and of architectural significance.
Its original use is reflected in the location of window openings, set high above ground level, concealing the processes of the morgue from the external public.
The former morgue moved twice prior to positioning it on its present site in 1873. It is currently located in the depot of the Ports and Harbour (also cited as the Melbourne Harbour) Trust Yard in Ann Street. It was closed in 1925 due to poor sanitary facilities and occupational health concerns.
The design is attributed to the Public Works Department Chief Architect, James Balmain. The building was erected by HR Thomas and HR Hunt in May 1859.
What's On
Join a guided tour of this historic building, registered with the National Trust, the Victorian Heritage Register and Hobsons Bay City Council.
Images: (1-2) Ann St Morgue. Photos: Courtesy Seaworks Maritime Museum
Important Details
Time & Date
Sunday 31 July
Open 10am-4pm
Tours run hourly from 10.15am, running for 20 minutes for up to 15 people at a time. No bookings required.
Age Requirements
All Ages
Accessibility
Fully wheelchair accessible
Accessible parking nearby

Location
82 Nelson Place, Williamstown 3016