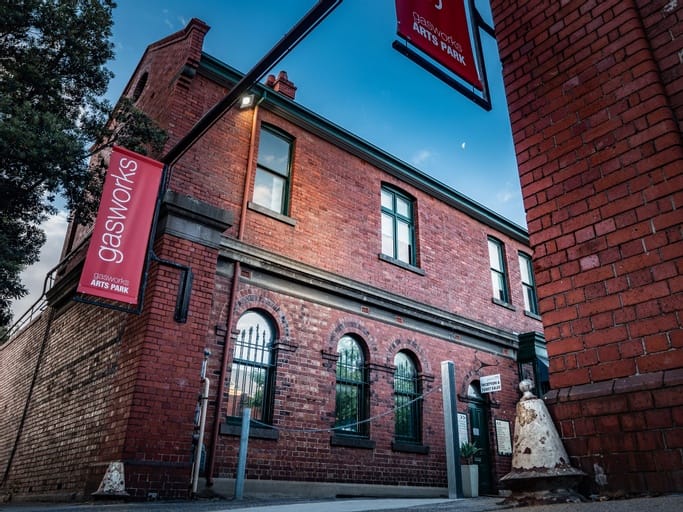 Gasworks Arts Park
Building Description
Gasworks Arts Park is a visual arts and performance space on the former site of the South Melbourne Gas Plant. The industrial buildings have been transformed into an inner-urban gathering place for creative minds: home to two theatres, three gallery spaces, studios for 15 resident artists and art class and workshop venues, all within 5 hectares of enclosed parkland.
The South Melbourne Gas Plant was built in 1872 and operated 24 hours a day, employing several hundred workers until it closed in 1957. It was derelict for a generation before the transformation into an arts precinct began in the 1970s. Traces of late 19th century manufacturing can still be seen on site. The old salt works building has new life as a sculpture studio, and laboratories have been repurposed as a café and gallery for the public.
The old weighbridge and bollards – to stop horse-drawn trams with coal from crashing into buildings – are still intact. The pumps that powered the plant are gone, however the building that housed them remains the dominant building of the park, now the Gasworks Theatre.
Industrial transformed into inner-urban gathering place for creative minds
What's On
Visitors can explore online tours of our historic buildings, as well as digital gallery exhibitions by artists. This is made possible by partnerships with Smartify & Ignition Immersive.
Daryl Groves for Admin Building;
Oriel Forsyth for Gallery;
Oriel Forsyth for Theatre seating.
Important Details
Time & Date
Saturday 24 + Sunday 25 July
VIRTUAL TOUR
Explore the building virtually for Open House Melbourne, scroll below or visit the Gasworks website:
VIEW THE TOUR
Accessibility
Social Story

Location
21 Graham Street, Albert Park 3206