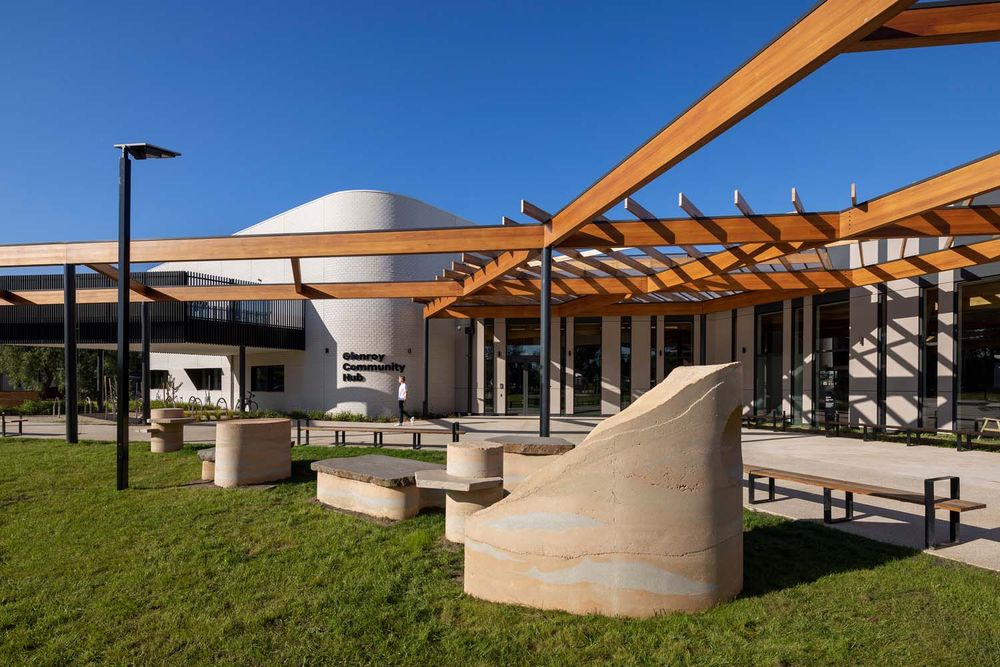 Glenroy Community Hub
Description
The Glenroy Community Hub, designed by DesignInc Architects, provides the Glenroy community with a welcoming, nature-inspired environment to learn, grow, and celebrate. A project of Moreland City Council the Hub is home to:
– Glenroy Library
– The Glenroy Memorial Kindergarten
– Maternal child health service
– Council Customer Service centre
– A community health provider
– Neighbourhood learning and childcare services
The co-location of these community services will provide greater service offerings and social opportunities to the Glenroy community.
The Glenroy Community Hub demonstrates Moreland City Council's commitment to world-leading, sustainable design. The Hub is the first community centre in Australia to be Passive House-certified, and is designed to achieve Living Building Challenge Petal certification and Net-Zero energy certification. This means that the Hub will have a high standard of environmental performance including low-energy use and high-comfort to support the health and well-being of users.
What's On
Building tours led by the Architects and Builders, DesignInc and Building Engineering. Gain insights into the design of the project. A unique opportunity to see the specialised construction methods required to achieve 'Passive House' certification.
Saturday 30 July:
– Guided tours 10am, 11am, 12pm, 1pm
– Self-guided tours 9am to 4pm
– Craft workshop for all ages 2pm
– Community garden harvest and produce swap 3.30pm
Sunday 31 July:
– Self-guided tours 1pm to 5pm
– Craft workshop for all ages 1pm to 4pm
Children's activities
Hands-on creative workshops exploring practical sustainability for children and their families.
Images: (1) Main entrance of Glenroy Community Hub. (2) Library space at the Hub. (3) Flexible working areas in library space. (4) Bookshelf and quiet workspace at the Hub. (5) Children's Centre at the Hub. All photos: Dianna Snape
Important Details
Time & Date
Saturday 30 July:
- Self-guided tours 9am to 4pm
- Guided tours 10am, 11am, 12pm, 1pm. Running for 30 minutes, for up to 20 people. Bookings not required. Tour group capacity is limited and operates on a first come, first in basis.
- Craft workshop for all ages 2pm
- Community garden harvest and produce swap 3.30pm
Sunday 31 July:
- Self-guided tours 1pm to 5pm
- Craft workshop for all ages 1pm to 4pm
Age Requirements
All Ages
Accessibility
Fully wheelchair accessible
Quiet rooms
Accessible bathroom
Accessible parking nearby

Location
50 Wheatsheaf Road, Glenroy 3046