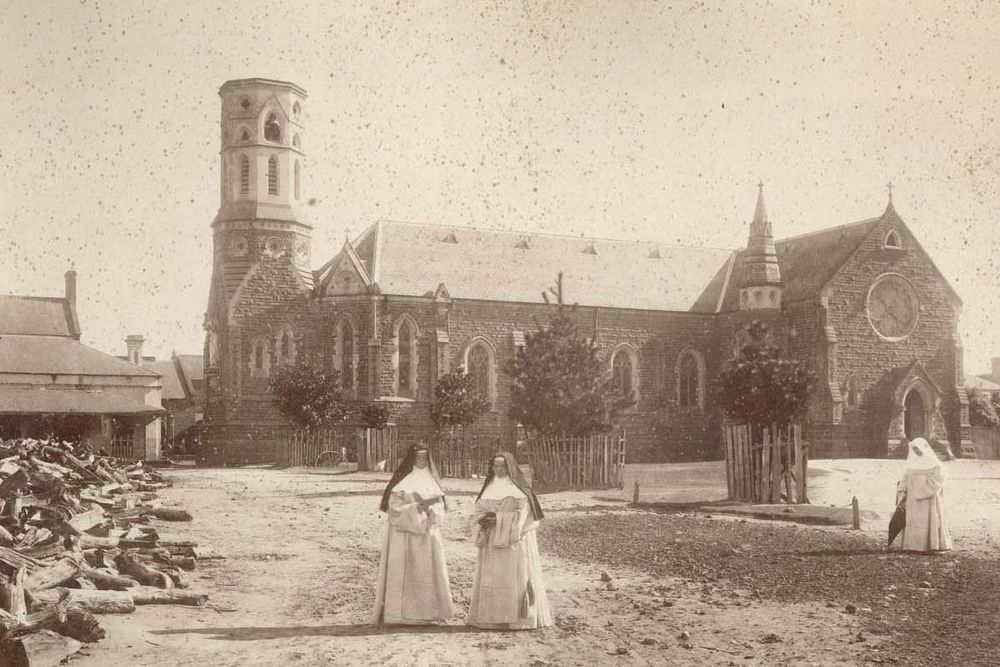 Good Shepherd Chapel Through Time
Description
Originally constructed in 1871 the chapel was, and still is, the cultural and spiritual centre for the Sisters of the Good Shepherd at the Abbotsford Convent. Robert Simeoni Architects was engaged to restore the building and explore the possibility of creating new uses and spaces for redundant areas.
In addition to traditional worship facilities, flexible spaces are provided for use by lay people and the public. An interpretive centre and a variety of meeting spaces and amenities, including an intimate space in the crypt, have been incorporated into this restoration project.
Restoration of the existing building was undertaken with care to retain as much of the existing fabric as possible. New works are treated intentionally as interventions, a contemporary architectural layer, sitting lightly within and subordinate to the existing fabric. Importantly, wherever possible these interventions are reversible.
This restoration of the existing chapel and the new interventions honour the history of the Good Shepherd Sisters and provide a multifunctional facility for their continued work and presence within the community.
From Robert Simeoni Architects
What's On
An immersive mixed media installation using Good Shepherd's archival footage and current day imagery depicts changes through time and the deep history of the Good Shepherd Chapel, the Abbotsford Convent site and the many women and girls who passed through its grounds. Don't miss the 20 minute film screening with live piano accompaniment by the Australian National Academy of Music.
Images: (1) Sister M of the Divine Heart Fallon and M. St Augustine O'Grady in 1889 in front of the Good Shepherd Chapel. Image courtesy Good Shepherd Archives.
Important Details
Time & Date
Saturday 30 July*
Open 11am-3pm (no access 12noon-1.30pm)
ANAM performance at 1pm Sat
Performance runs for 20 minutes (film accompanied by live piano) for up to 100 people.
Bookings not required. Event capacity is limited and operates on a first come, first in basis.

*Please note the performance on Sunday 31 July has been cancelled by the event organiser and the venue will no longer be open for access on Sunday. We apologise for any inconvenience or disappointment caused.

Wheelchair accessible, please get in touch for other accessibility needs.
Age Requirements
All Ages
Accessibility
Partially wheelchair accessible
Social Story
Accessible bathroom

Location
1 St Heliers St, Abbotsford 3067
Contributors
Presented by Australian National Academy of Music.