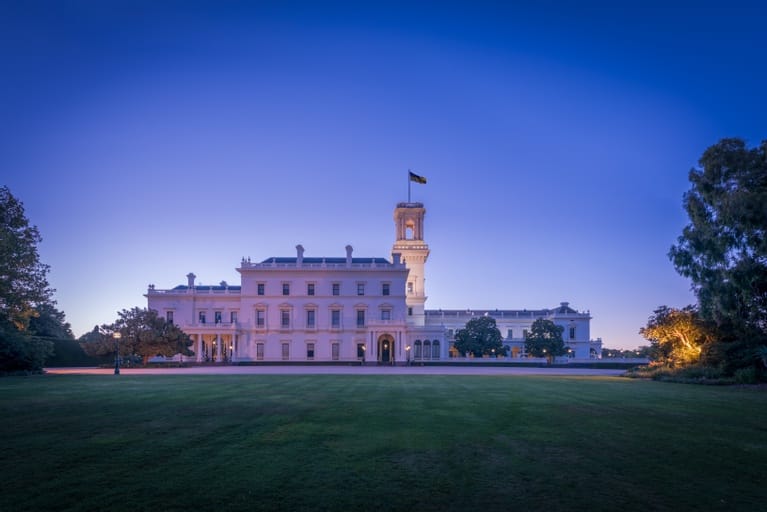 Government House
Building Description
Victoria's Government House, built between 1872 and 1876, is recognised for having historical, architectural, and aesthetic significance to the State. According to the Victorian Heritage Register, Government House is considered to be one of the finest examples of 19th-century residential architecture.
Built during the economic boom of the Gold Rush when Melbourne was transformed from a small capital in a fledgling colony into 'Marvellous Melbourne', Government House characterises the high standard of design and craftsmanship of public buildings built during that period. Designed in the Italianate-style, the House is constructed in stucco-rendered brick on a bluestone foundation. The 48-meter ornamental tower provides a central focus for the three sections of the house – the State Apartments, the Private Apartments, and the Ballroom.
Government House is the official residence of the Governor of Victoria, the Hon. Linda Dessau AC, and her husband, Mr Anthony Howard AM QC. The House is used extensively for the benefit of the Victorian community and is the primary venue for the Governor's constitutional, ceremonial, community, and international engagement activities. It also houses the business offices for staff of the Office of the Governor.
One of the finest examples of 19th-century residential architecture
Whats on 
Government House Victoria is once again delighted to be participating in the Open House Melbourne digital festival, with the screening of a virtual tour filmed during 2020, and originally broadcast online during Open House Melbourne last year.
Images: 1) Government House at dusk 2) State Dining Room 3) State Hall 4) Ballroom 5) State Drawing Room
Important Details
Time & Date
Saturday 24 + Sunday 25 July

Video will be active across the duration of the Open House Melbourne weekend.
Scroll below,
Location
Government House, 1 Government House Drive, Melbourne, VIC, 3004