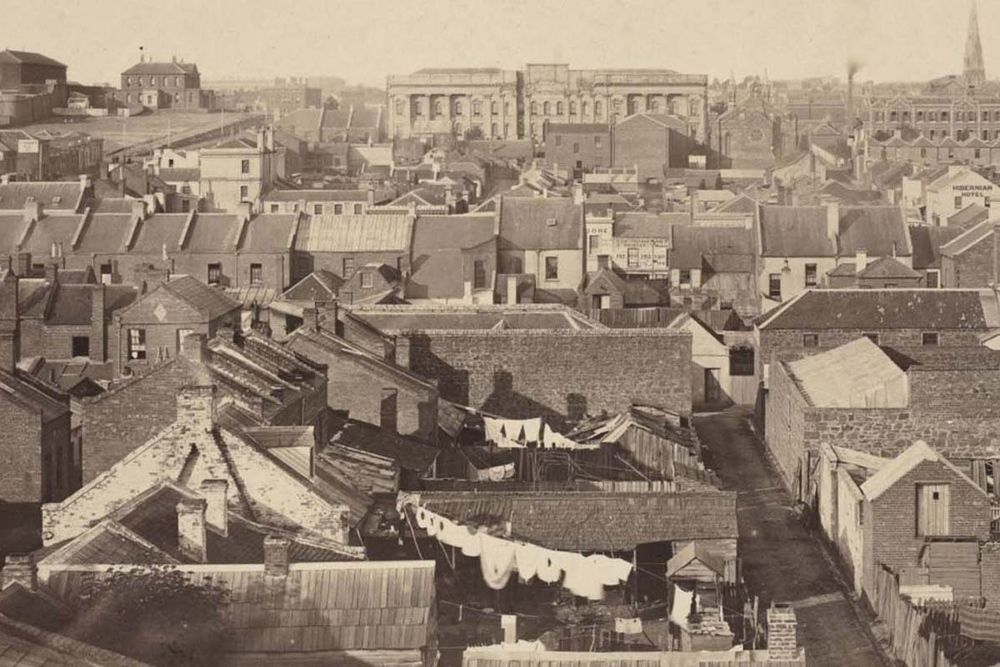 Guildford and Hardware Lane – an Historian's tour
Description
The Guildford and Hardware laneways were developed initially to provide rear service access to properties, and as thoroughfares through the blocks and between streets. The intense subdivision of the 1850s gold-rush period saw many of the rear lanes evolve into distinct streets with their own frontages.
By the early 1870s corner hotels were established, and boarding houses or 'temperance hotels' also provided additional accommodation in the precinct, and in the mid-1880s and into the 1890s the character of the laneways began to change with the construction of warehouses and small-scale manufacturing buildings replacing early dwellings.
The laneway warehouses were popular with printers, publishers and stationers from the late nineteenth century, as well as associated businesses including stereotypers, linographers and bookbinders. This use continued through the twentieth century (one of the last printeries remaining in the central city ceased trading from its premises in Goldie Place in 2004).
From the late twentieth century a number of council and government and initiatives were developed to 'reactivate' the city, which was suffering from an oversupply of vacant office and warehouse space.
Bars, cafes, night clubs, galleries and boutique retail outlets flourished. Hardware Lane, in particular, was at the forefront of this change. It had long been a popular nightspot with restaurants, bistros and clubs moving into buildings which had previously been used for industrial or manufacturing purposes. Former bulk stores in Rankins Lane were also reused from the late 1970s by artists as studios and gallery space, including by renowned Melbourne artist Mirka Mora.
Many of the heritage buildings remain, imbuing this vibrant part of Melbourne with a rich architectural and social history.
What's On
Join historians Libby Blamey and Meighen Katz for a social history walking tour of the Guildford and Hardware laneways precinct, as they give insights into the less well-known parts of Melbourne's beloved laneways, the rich social history of the area and its architecturally significant buildings.
Curiosity and shared knowledge will be encouraged as we revisit the city's vibrant history and explore the remaining heritage buildings that have been integrated into its ever-changing landscape.
Images: (1) View of the Guildford and Hardware Lane Precinct from Queen Street, c.1860. Source: H2497, Charles Nettleton, State Library of Victoria. (2-6) Buildings in the laneways. Photos: Lovell Chen.
Important Details
Time & Date
Saturday 30 July
Tours run 9.30am, 11am, 1pm, 2.30pm.
Running for 45 minutes in groups of 20 people.

Bookings not required. Tour group capacity is limited and operates on a first come, first in basis.
Age Requirements
8 years and above
Accessibility
Fully wheelchair accessible
Accessible parking nearby

Location
Guildford and Hardware Lane, Melbourne CBD