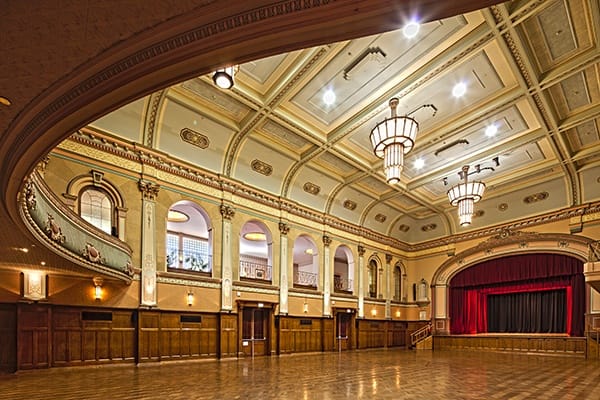 Hawthorn Arts Centre
Building Description
Architect John Beswicke's spectacular Second-Empire-style Town Hall was completed in 1889, and opened with a Grand Ball. Built in a Renaissance style it was described as a two storey brick and stucco building with a 100ft (30.48m) tower. It was home to municipal offices, post office, fire station, police station and courthouse.
Overtime the building has evolved with the community, with additions such as the clock tower, balcony, marble stairs, entrance foyer and stunning art-deco chandeliers added to make it one of Melbourne's most iconic buildings.
In 2013 the town hall was reimagined and redeveloped into the Hawthorn Arts Centre comprising of a gallery, performance spaces, Boroondara's 360 Youth Services, function rooms and artist studios – it is a beautiful example of perfectly blended 19th and 20th Century architecture.
Come and see for yourself how this sympathetic and innovative redevelopment has created a stunning venue for the delivery of arts and youth programs for the local community and beyond.
What's On
Boroondara Arts invites you to a live online presentation about the Hawthorn Arts Centre (former Hawthorn Town Hall).
During the presentation we will discuss the evolution of the Hawthorn Arts Centre, celebrating the many ways this building has been a part of our community since the 19th century.
Images top: (1-2) Courtesy of City of Boroondara. (3-7) Courtesy Bennetts Studio Pty Ltd.
Important Details
Time & Date
VIRTUAL TOUR
Scroll below to view
ONLINE EVENT
Live Presentation: 'Inside online: Hawthorn Arts Centre'
Saturday 24 July
1pm – 2pm
This event is now complete. If you want to revisit the talk, scroll below or view the video directly via YouTube:
WATCH HERE
Location
360 Burwood Road, Hawthorn 3122