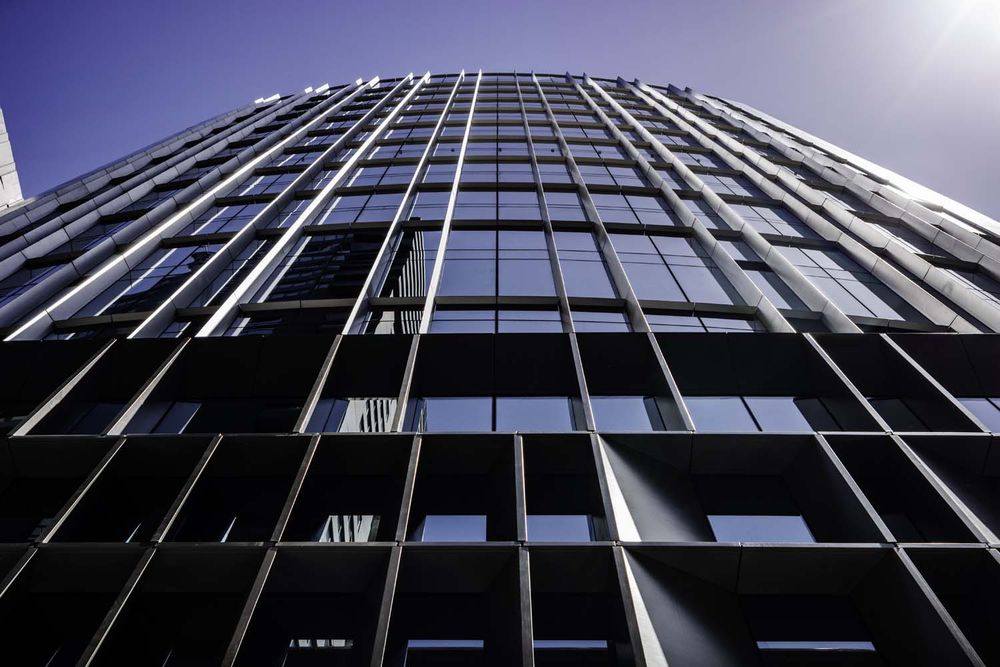 Hyatt Centric Melbourne
Description
Near the prominent corner of Flinders and Spencer Streets, Hyatt Centric hotel offers boutique accommodation in Melbourne's CBD. Celebrating the city's cultural identity, its design takes inspiration from the surrounding laneway network and heritage masonry buildings. The Downie Street entrance is reactivated in the spirit of Melbourne's iconic laneways, creating a discreet entry.
The façade has an elegant, curved expression addressing east and west aspects. This subtle curvature creates a clear and fluent landmark on the skyline along the nearby southwestern edge of the Hoddle Grid.
Vertical blades of varying scales accentuate the curved tower façade providing solar shading and modulation while referencing the Edwardian Baroque style of the nearby Sir Charles Hotham Hotel. The podium façade is an open frame structure; it reflects the fine grain street hierarchy and is sympathetic to its context both through materiality and scale.
Small elements come together in the holistic design response, including how the design pays homage to Melbourne's Gold Rush history through a collection of feature lighting by local maker Volker Haag and the custom brass door handles and sculptures designed by artisan Suzie Stanford. More abstract & subtle references that celebrate Melbourne's urban fabric include the city's Hoddle Grid referenced in the custom-designed guest room rugs, or the Victorian era inspired brickwork in the public spaces.
What's On
Architectus project lead Stephen Perkins and Hecker Guthrie associate designer Stacey Van Harn will guide a tour of the 277-room hotel that breathes new life into the southern end of Flinders Lane.
Stephen will describe how the Architectus team developed the tower façade and reflect on the influence of how the Edwardian Baroque style building, the Sir Charles Hotham Hotel, this sophisticated addition to the city skyline. Stacey will talk through the design components within the hotel interiors that celebrate the city's vibrant history and give an overview of how the design team engaged with local makers and artisans to respond to the client brief.
Together, they will explore how small moments of joy, in unexpected places, set the stage to embark on a journey to explore the multi faceted Melbourne city.
Images: (1) Exterior façade of Hyatt Centric Melbourne. Photo: Trevor Mein. (2-6) Interiors. Photos: Courtesy Hyatt Centric Melbourne.
Important Details
Time & Date
Saturday 30 July and Sunday 31 July
Tours run 10am and 12.30pm
Running for 60 minutes in groups of 20 people.
Bookings not required. Tour group capacity is limited and operates on a first come, first in basis.
Age Requirements
All Ages
Accessibility
Fully wheelchair accessible

Location
25 Downie Street, Melbourne 3000