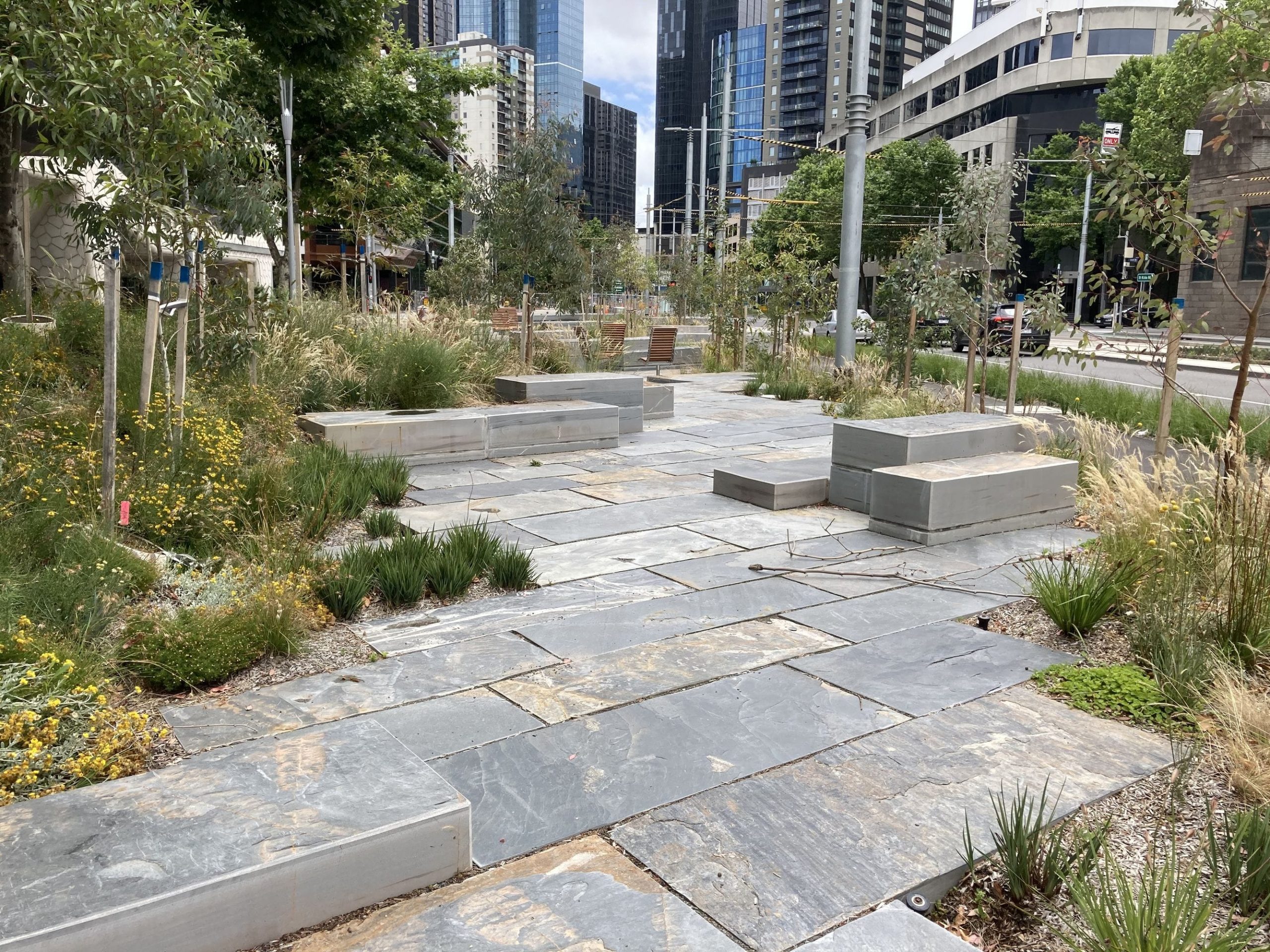 Waterfront: Just Add Public Life – Repairing Southbank
From a swamp on the ever-changing seasonal path of the Birrarung to wharf-side industrial hub and now hyperdense neighbourhood, Southbank has experienced a number of waves of dramatic change. However, only in recent years has one of Australia's densest suburbs begun to experience the public amenity that marks Liveable Melbourne. As the development tap slows to a trickle due to the lack of remaining sites available, emphasis has shifted to what Melbourne does best – repair.
A collection of diverse but high-quality public spaces initiated by the City of Melbourne and VCA have begun to weave a belated network of urban quality through the precinct, creating new opportunities for public life and slowly connecting the disparate arts entities back to the Hoddle Grid. As they always do, people are responding and using new spaces in unexpected ways.
Join the ArchiTours team for this rich walking tour through the many open spaces of the precinct, revealing a cross-section of approaches to landscape architecture and urban design in this former swampland. Tour guides:

Mark Skiba
Mark is an urban designer with a background across landscape architecture and urban design. Through his role at GHD he is intimately engaged in shaping a number of major State infrastructure projects. Mark has designed and delivered significant urban design projects across Australia from new neighbourhoods to streetscape improvements and pocket parks.

Andy Fergus
Andy is an urban designer with a background across planning, urban design and architecture; co-director of Melbourne Architours; urban design consultant and head of design at Assemble Communities – an ethical-housing developer. Andy previously worked with the City of Melbourne and brings an intimate knowledge of the arts precinct, its history, recent projects and planned transformation.
Photo: Southbank Boulevard landscape, City of Melbourne with TCL, © Mark Skiba.
Learn about Melbourne's riverside evolution on a guided walking tour with Melbourne Architours.

Event co-presented by ArchiTours. Waterfront is proudly presented by Centre for Architecture Victoria | Open House Melbourne, in partnership with Department of Environment, Land, Water and Planning and East Gippsland Shire Council. Waterfront is part of Melbourne Design Week 2021, an initiative of the Victorian Government in collaboration with the NGV.
Important Details
Time & Date
Sunday 28 March 2021
10am – 11.30am
Location
Hamer Hall - meet at the 'Forward Surge' black steel sculpture on the south side lawn. 100 St Kilda Road, Melbourne, VIC 3004