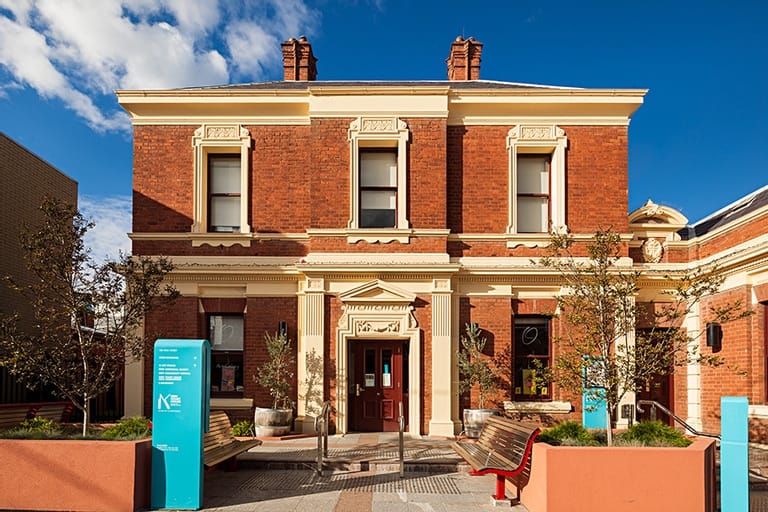 Kew Court House
Building Description
A former court house and police station, this 1888 building on the edge of Kew Junction has had a colourful past.
Connected to a former post office the site was a functioning court house until 1971 and police station until 1982. A passionate community campaign, led by the Kew Historical Society, commenced in 2006 to save the site from developers, with the campaign raising over $500,000.
The City of Boroondara purchased the site from the State Government in 2007 and with the assistance of the fundraising campaign and numerous grants redeveloped the site into an arts venue which opened in 2011. In 2012 the redevelopment project won the State Planning Minister's Heritage Award in recognition of the outstanding restoration of the building and also the Sustainable Cities' Community Government Partnerships Award.
The venue now boasts an intimate 80-seat black box theatre, meeting room and is home to resident community groups including QArts, Kew Historical Society and e.motion21. During Open House Melbourne visitors can explore the history of the venue including the cell block.
What's On
To celebrate Open House Melbourne 2021, Boroondara Arts invites you to a live online presentation with the Kew Historical Society.
During the presentation we will discuss the evolution of the Kew Court House, celebrating the many ways this building has been a part of the community since the 19th century.
Important Details
Time & Date
VIRTUAL TOUR
Scroll below to view
ONLINE EVENT
Live Presentation: 'Inside online: Kew Court House'
Saturday 24 July
3pm – 4pm
This event is now complete. If you want to revisit the talk, scroll below or view the video directly via YouTube:
WATCH HERE
Location
188 High Street, Kew 3101