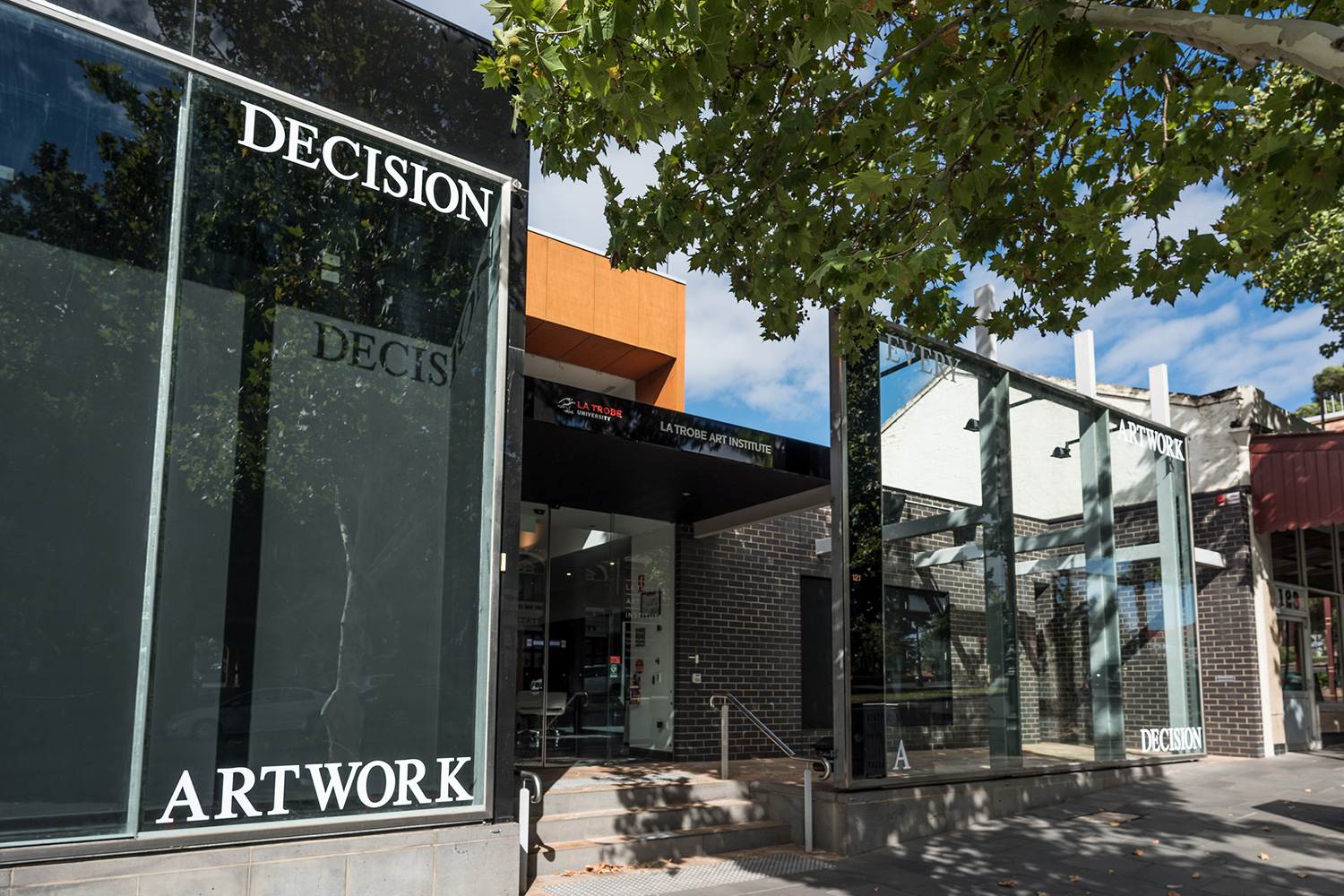 La Trobe Art Institute
Description
La Trobe Art Institute is La Trobe University's public-facing centre for contemporary art, engagement and cultural collections. Through arts and culture, it gives expression to links between research, industry, community and geography. As both physical site and growing network, partnerships with diverse communities are key to their work.
Their mission is to foster artistic and intellectual exchange. La Trobe Art Institute's award-winning Peter Elliott-designed premises in the Bendigo CBD include two galleries, a tiered auditorium, apartment, studio, common area, meeting room and outdoor courtyards. The program includes exhibitions, films, residencies, studios, talks and forums, professional development, cultural exchange and social events that support community advocacy and debate.
What's On
La Trobe Art Institute façade public art commissions
Led by Amelia Wallin, Curator, La Trobe Art Institute, this conversation brings together two commissioned artists who have produced works of public art on our building's façade. Originating in 2008, the Biannual Façade Commission is now a celebrated featured of La Trobe Art Institute's artistic program and a feature of Bendigo's arts precinct. Joining Amelia will be the inaugural commissioned artist, Robyn Burgess, and the current exhibiting artist, Chunxiao Qu. The conversation will consider the creative potential of public art and its contribution to the urban realm, encompassing differing artistic responses to the architecture and the streetscape.
Architectural tour with Peter Elliott, Bala Starr and Robyn Burgess
Directly following the artists' talk, join us for a reflective architectural tour of the La Trobe Art Institute building with the building's architect, Peter Elliott along with La Trobe Art Institute director, Bala Starr and artist Robyn Burgess, who produced the original façade artwork. Architect, director and artist will reflect – from their various perspectives – on the almost two decades since the buildings' opening. Together they will discuss how the spaces have supported creative practice, engagement and display, what has proven successful, offered surprising opportunities or what remains challenging as La Trobe Art Institute continues to be 'tuned' for the future.
Images: (1) Robyn Burgess, Future Cities, 2005. (2–3) Agatha Gothe-Snape, EVERY DECISION AN ARTWORK EVERY ARTWORK A DECISION, 2018. Photos: Ian Hill.
Important Details
Time & Date
Sunday 23 October
La Trobe Art Institute façade public art commissions 
2.00–3.00pm
BOOK HERE
Architectural tour with Peter Elliott, Bala Starr and Robyn Burgess 
3.00–4.00pm
BOOK HERE
Free, bookings required for each event
We also invite you to join us for a complimentary drink as the tour wraps as part of the informal closing event
Accessibility
Fully wheelchair accessible
Accessible parking nearby
Accessible bathroom

Location
121 View St, Bendigo VIC 3550