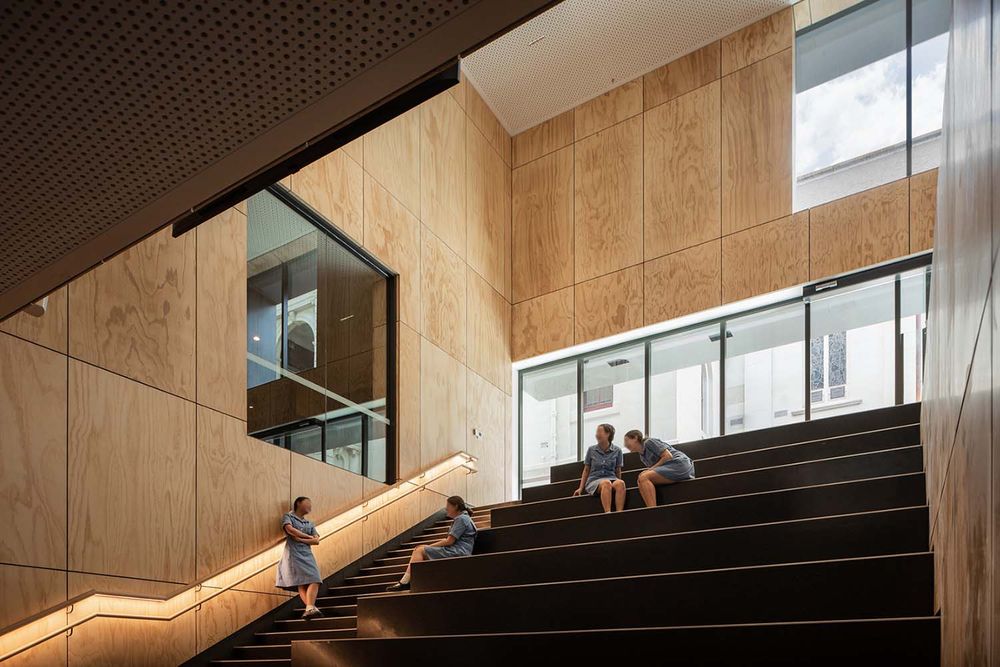 Loreto Clendon Centre
Description
The Clendon Centre is the learning and home base for Loreto Toorak's Year 7 to 9 students and the recent winner of the Henry Bastow Award for Educational Architecture at the 2022 Australian Insitutute of Architects Victorian Chapter Awards. It is both functional and beautiful, instilling a sense of calm through its deeply considered scale, proportion, transparency, and minimal material palette.
Designed within a tight physical context, three of its six levels are below ground. The two upper levels of the building (Years 7 and 8) accommodate all homerooms and informal areas. Spatially, the Ground and basement level 1 (Year 9) provide for a greater level of independence as students transition into senior school years. The tiered teaching stairs, lecture theatre, workshop and gallery spaces provide opportunities for community engagement outside school hours.
The building's form and materiality respect its heritage setting, including Mandeville Hall designed by Charles Webb and St George's Chapel, and the site's history as a residential compound. Its functional geometry engages with the immediate physical environment and responds to the residential scale and rhythm of Clendon Road. External courtyards are scaled for movement, gathering and contemplation; the landscape design embellishes and frames spaces between buildings with materials and vegetation that establish values, local identity and help foster school pride. The intimate sunken courtyards provide daylighting to basement learning spaces, borrowing landscape to stimulate active young minds.
An in-situ concrete wall acts as a boundary fence to the east and transforms into a building behind, rising up to the south to mark the main entry off Clendon Road and the courtyard edge beyond. Glass is screened and framed by steel for visual clarity while offering solar protection and subtlety screened views.
What's On
Design Leader Paulo Sampaio and the Architectus team will lead a tour explaining how the building's functional geometry engages with the majestic heritage context of the campus and the residential scale and rhythm of Clendon Road. They will describe how the architectural design incorporates landscaped courtyards and discuss how the Clendon Centre uses scale, proportion, transparency, and a minimal material palette to instil a sense of calm and order.
Images: The Clendon Centre. Photos: Courtesy of Trevor Mein
Important Details
Time & Date
Sunday 31 July
Open 10am-1.30pm
Tours run 10am and 12.30pm
Running for 60 minutes in groups of 20 people
Bookings not required. Tour group capacity is limited and operates on a first come, first in basis.
Age Requirements
All Ages
Accessibility
Fully wheelchair accessible

Location
10 Mandeville Crescent, Toorak 3142