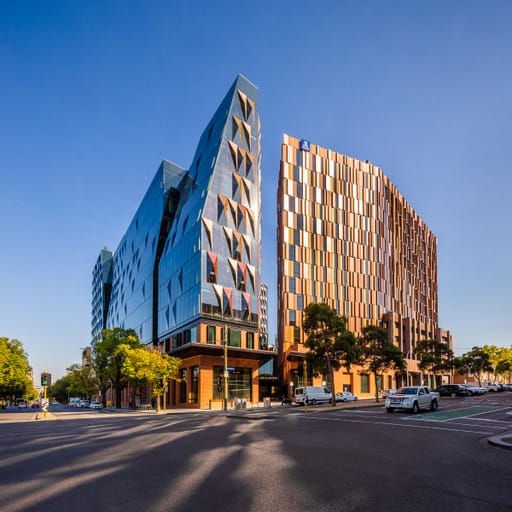 Melbourne Connect – Melbourne's Innovation Precinct
Building Description
Powered by the University of Melbourne in partnership with a consortium led by Lendlease, Melbourne Connect is designed by Woods Bagot and Hayball, with fit-outs by Hassell, Architectus and Smart Design Studio.
The 75,800sqm precinct boasts smart and sustainable design, with a 6-star green star rating, 4.5-star NABERS water rating and 5-star NABERS energy rating. It is also home to one of Melbourne's largest rooftop solar PV arrays, geothermal energy and on-site rainwater harvesting.
Built on the site of the former Royal Women's Hospital, it features a series of interconnecting buildings arranged around a central open space, featuring landscape architecture by ASPECT Studios, known as Womin Djerring (Come Together).
At the heart of this extraordinary precinct is the 3,600sqm Superfloor, a generous meeting and event space designed to create an immersive environment to explore new ideas, showcase work and to collaborate with leading minds in innovation.
An engine room to transform and equip Melbourne for the future.
What's On
Architects Talk: Designing an Innovation Precinct
What is an innovation precinct and how do you approach designing one? Principal Architect from Woods Bagot, Hazel Porter, will speak to the vision of Melbourne Connect, the University of Melbourne's brand new innovation precinct.
Built on the former site of the Royal Women's Hospital and featuring five connecting buildings organised around a central public outdoor garden —Womin-Djerring (Oculus) — Melbourne Connect is designed to foster multi-disciplinary innovation in the sciences and arts. It is where researchers, industry, government, entrepreneurs, and artists co-locate and collaborate to enhance Australia's innovation, productivity and sustainability agendas.
Porter will speak to the design of the project, and how innovation and a commitment to fostering innovation was embedded in work from start to finish. The architects also strongly considered the notion of place, and have respected and acknowledged the important history of the site throughout the design process.
Images: (1-3) Melbourne Connect, photo: Peter Casamento. Courtesy Melbourne Connect.
Important Details
Time & Date
ONLINE EVENT
Architects Talk: Designing an Innovation Precinct with Woods Bagot
Saturday 24 July
1pm – 2pm
This event is now complete. If you want to revisit the talk, scroll below or view the video directly via YouTube:
WATCH HERE
Location
700 Swanston Street, Carlton 3053