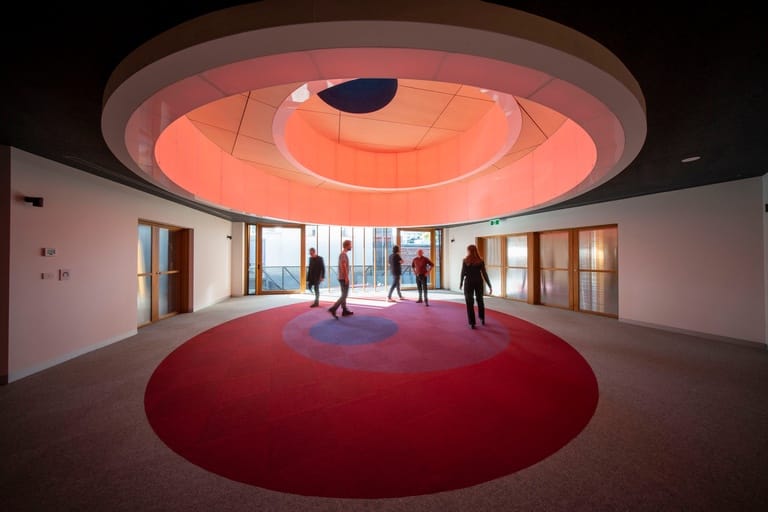 Melbourne Quakers Centre
Building Description
The Quakers Centre in Melbourne sits on the edge of the Melbourne CBD in a a triangular site which is a wedge of leftover space between the greater Melbourne grid and the city grid, which is rotated approximately 28°.
Being the main centre for the Quakers in Victoria, the building is a centre and symbol for the pursuit of world peace, a core belief and pursuit of the Quakers. A number of shifting asymmetrical circles, a Quaker symbol, have been inserted within the triangular space to detonate the shift between the city and surrounding suburbs.
The clients were eager to avoid normal church tropes, to create a type of anti-church, which encouraged a design response that avoided overt Christian symbolism and monumentality.
The building is a centre and symbol for the pursuit of world peace.
What's On
Due to the Covid-19 lockdown, the physical tours have been delayed and will be replaced by a virtual tour and talk at 1pm Saturday July 24th.
Join the project architects Toby Reed from Nervegna Reed Architecture and Peter Hogg from pH architects, as they present the design and construction story behind the project. Hear first hand how the project has directly impacted members from the Quaker community.
Important Details
Time & Date
ONLINE EVENT
Live Presentation and Q&A

Saturday 24 July
1pm – 1.45pm

FREE, booking required.
Location
484 William Street, West Melbourne 3003