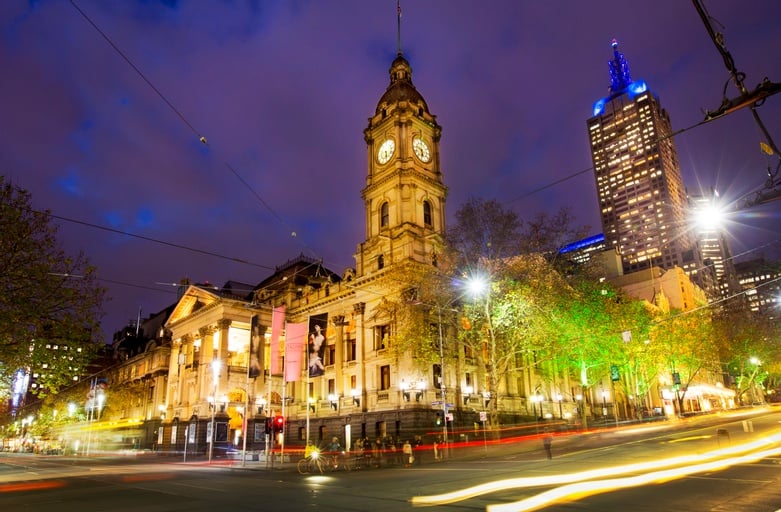 Melbourne Town Hall
Building Description
Take a virtual tour through the Melbourne Town Hall. Melbourne Town Hall became the heart of the city and cultural civic activity when completed in 1870. Today it hosts theatre, weddings, receptions, exhibitions and also operates as an office space for council staff. The building celebrates its corner site with a tower in the grand French Renaissance style and was the prototype for numerous suburban town halls.
Construction of the Town Hall began in 1867 at the corner of Swanston and Collins streets. Architects Reed and Barnes won a competition for its design, and the firm was also responsible for later additions in 1887. These additions included Prince Alfred Tower (1869), the temple-like portico (1887) and the extension along Collins Street (1925). The exterior façade is made from Tasmanian freestone and sits above rusticated bluestone plinth, while the clock
tower houses clocks donated by the son of Melbourne's first Mayor, Henry
Condell.
Melbourne's coat of arms represents the source of Melbourne's wealth in the early 1840s. This brass status on display at the Town Hall is of a sheep, bull, whale and ship. Sheep were used for their wool, bulls were used for their fat to make candles and soap, whales, were used for their oil and bone and ships contributed to wealth via their exports and transportation.
For over 135 years, Melbourne Town Hall has been a focal point for events that have helped shape the Melbourne of today. As the location of today's council meetings it still plays an important role in how Melbourne will be shaped for the future. Viewers will see where Federation was debated, Dame Nellie Melba debuted and where the Beatles waved from the portico at their adoring fans.
The heart of the city's cultural and civic activities
What's On
VIRTUAL TOUR
Take yourself on a virtual tour of Melbourne's most iconic Town Hall. The Portico used to be the place where important visitors to Melbourne would be presented to the people in the street below, giving everyone a great view, visitors have included Her Majesty Queen Elizabeth and Prince Phillip (1954), the Beatles (1964) and ABBA (1977), and Lionel Rose (1968), the first Aboriginal person to win the world bantamweight boxing title. Visit the Yarra Room as it was the original council chamber when the Melbourne Town Hall opened in 1870. In the Melbourne Room, Her Majesty Queen Elizabeth was entertained here during her visit in 1954 and it was thought appropriate to purchase, at great expense, a beautiful silver tea set. Also visit the Grand Organ in the Auditorium installed in the town hall since 1872.
Image courtesy Melbourne Town Hall.
Important Details
Time & Date
Saturday 24 + Sunday 25 July

VIRTUAL TOUR
Video will be active across the duration of the Open House Melbourne weekend.
Location
90-130 Swanston Street, Melbourne 3000