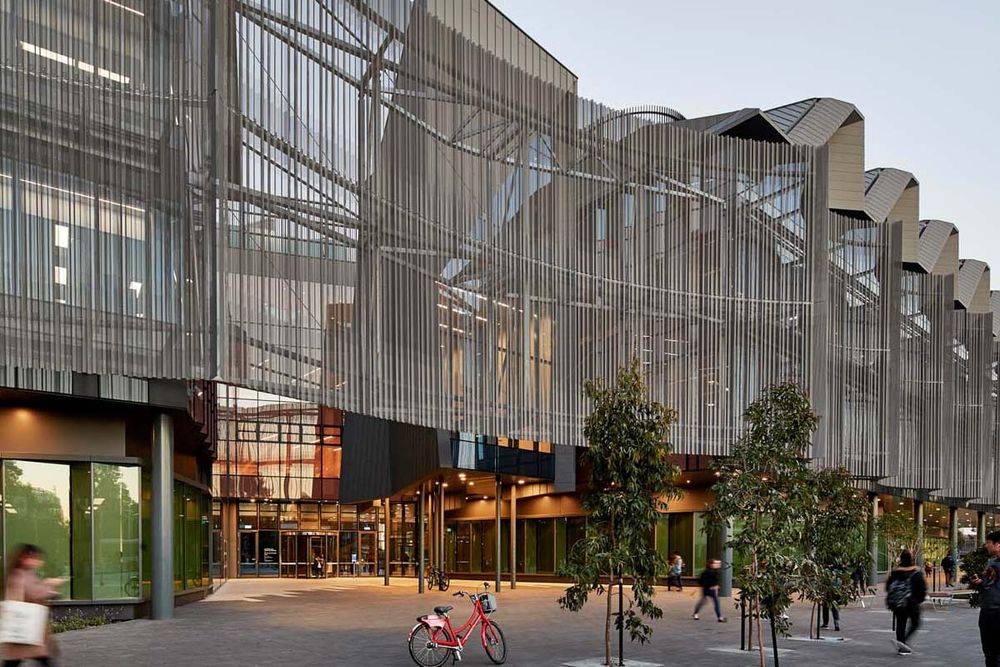 Monash Learning and Teaching Building
Description
The award-winning Learning and Teaching Building at Monash Clayton is a multi-faculty learning facility by John Wardle Architects. It is recognised as an international standard for transformational change in teaching practice and the student learning experience. Located at the campus' southern gateway, close to the Monash Transport Interchange, the facility responds to new and emerging pedagogies which recognise that people learn in different ways.
Existing as a small city, the rich interior features over 60 innovative learning and teaching spaces, comprising technology-rich 'Next Generation' learning and teaching environments complemented by informal learning hubs. Pre-class, in-class and post-class discussion are encouraged, and enabled, by the clustering of spaces into neighbourhoods with embedded technologies that facilitate real-time collaboration with students and educators at other locations.
The spatial and learning experiences were informed by references to the valued landscape character of the Clayton campus. The zinc cladding on the facades acknowledges the stringybark forests and agrarian paddocks, and the building's brick and timber interior invents a new internal landscape of ravines, clearings, strands, perches and amphitheatres. This 5-star Green Star building also incorporates a new bicycle arrival station, a retail precinct and the campus' first underground car park.
What's On
Take a tour led by the Faculty of Education at Monash University that encompasses an interactive maker space. Here you can join researchers constructing a bionic hand, giving insight into the various stages of research and the creative process from imagination, ideation to teaching innovation and learning impact. You're encouraged to also visit other Monash Clayton sites and make an afternoon of it!
Images: (1) A gateway building with its double-skin facade featuring a folded perforated zinc screen. Photo Peter Bennetts. (2) Award-winning interior architecture. Photo Peter Bennetts. (3) The sculptural brick 'kiln' suspended over building foyer. Photo Andrew Lloyd. (4) The upper levels of the 'kiln' are visible through glazing. Photo: Rhiannon Slatter. (5) Photo: Teaching and learning stairs. Peter Bennetts. (6) A side profile of the brick 'kiln'. Photo: Rhiannon Slatter.
Important Details
Time & Date
Sunday 31 July
Tours run 12pm and 2pm
Running for 45 minutes in groups of 25 people. Bookings not required. Tour group capacity is limited and operates on a first come, first in basis.
Age Requirements
All Ages
Accessibility
Fully wheelchair accessible
Accessible bathroom
Accessible parking nearby

Location
19 Ancora Imparo Way, Clayton, Monash University VIC 3800
Contributors
Presented by The Faculty of Education at Monash University and John Wardle Architects.