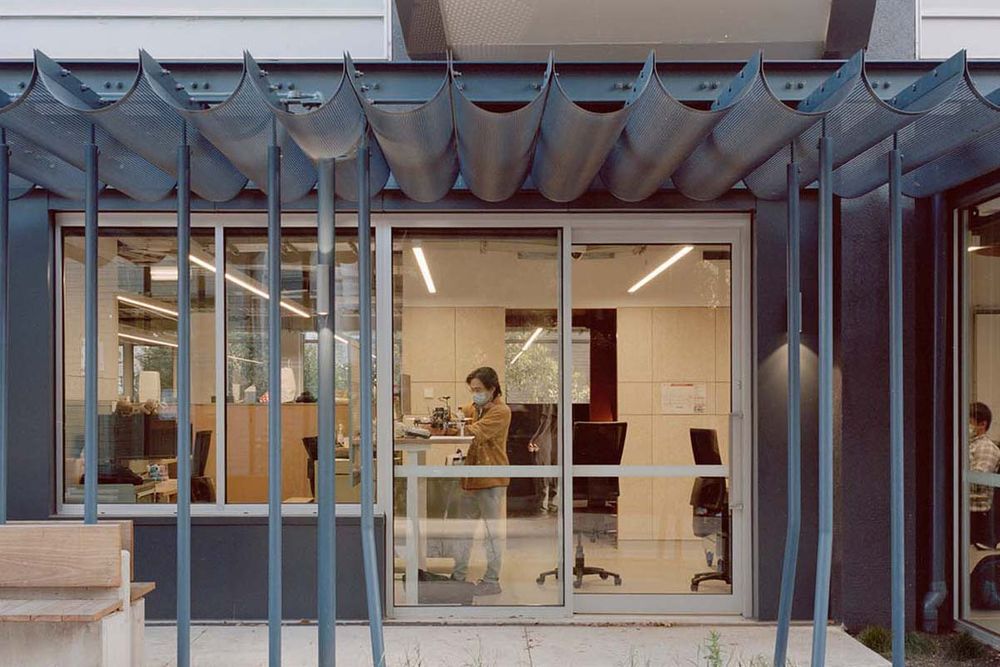 Monash Robotics Research Facility
Description
A 'living lab' of human-robot interaction, the Monash Robotics Research Facility at Clayton campus houses the complex, long-term experiments required to advance robotics in the home, community, and industry. It combines cross-disciplinary research departments in a single purpose-built facility that supports collaborative innovation focusing on the interaction of humans and robots. The Robotics Lab enables research into a future where robots interact intuitively and safely with humans, and are successfully integrated in next-generation manufacturing, rehabilitation, agricultural, medical, and home settings.
Designed by Studio Bright, the project is a reworking of the ground floor of an existing 1960s building, with a new activated interface featuring a fluted awning and additional glazing that puts internal learning and research 'on show'. Shared tool rooms and task-based zoning clusters researchers together, and larger architectural gestures increase transparency into the interior fulfilling the civic ambitions of the brief. Featuring a refined and elegant internal palette of subtle hues against natural materials, the facility enables Monash's world-leading team of robotics researchers, students, and industry partners to pursue human-centred robotics research, advancing beyond traditional industry and manufacturing approaches.
What's On
Join a tour led by Studio Bright and the Faculty of Engineering at Monash University. Gain exclusive insight into this purpose-built research facility, including the state-of-the-art experimental arena and innovative robotics research. Visitors are encouraged to also visit other Monash Clayton sites and make an afternoon of it!
Images: (1) Robotics Lab facade and robotics workshops within. Photo: Rory Gardiner. (3) Robotics workshop. Photo: courtesy of Monash University. (2) Electronics workshop. Photo: Rory Gardiner. (4) Facade integrated with landscape by AKAS Landscape Architects. Photo: Rory Gardiner. (5) Fluted canopy detail. Photo: Rory Gardiner.
Important Details
Time & Date
Sunday 31 July
Tours at 12pm, 1pm and 2pm
Running for 20 minutes in groups of 20 people
Bookings not required. Tour group capacity is limited and operates on a first come, first in basis.
Age Requirements
All Ages
Accessibility
Fully wheelchair accessible
Accessible parking nearby

Location
18 Alliance Lane, Clayton, Monash University 3800
Contributors
Presented by The Faculty of Engineering at Monash University and Studio Bright.