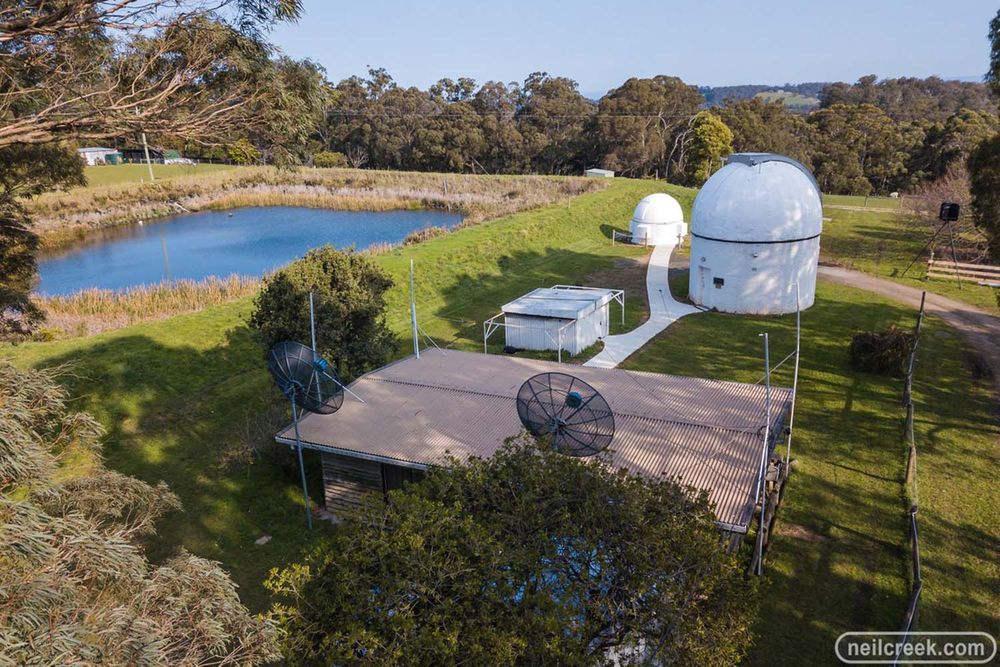 Mount Burnett Observatory
Description
The Mount Burnett Observatory is celebrating the 50th anniversary of the Monash Dome.
The observatory was built in 1972 by Monash University as a research facility. The original telescope in the Monash Dome was used by students and staff in the study of variable stars. The Log Cabin, added in 1975, provided on-site facilities for those conducting observations. In the early 2000s the facility was no longer needed by Monash University and fell into disrepair. In 2011 an enthusiastic group of local astronomers took over the site and began its restoration, with an aim to preserve the facility and use it to promote astronomy and science to the broader community.
The observatory now services a growing membership of astronomers pursuing a range of activities, including astrophotography, radio astronomy, outreach programs and a Young Observers group. The Monash Dome houses a telescope with an 18" mirror, and provides members and visitors with magnificent views of the night sky.
What's On
An astronomer guide will greet you with a broad overview of the facility, its conveniences and area boundaries. Small groups will be shown around the observatory, visiting the Monash Dome and the 18 inch telescope, the Celestron Dome, the Log Cabin, specialist astronomy displays, and children's activities. Visitors to the evening tours will view the night sky through the telescopes (weather permitting). Photography at the site is welcome.
Children's activities
The Young Observers team will be on hand to help children make a constellation, and show them how to project the image onto a wall. The constellation will be yours to take home.
Images: (1) Mount Burnett Observatory. (2) Monash Dome with telescope visible. (3) Eighteen inch telescope inside Monash Dome. (4) Monash Dome with starts projected on exterior. (5) Monash Dome with Milky Way overhead. All photos: Neil Creek
Important Details
Time & Date
Saturday 30 + Sunday 31 July
Tours run:
Saturday 10am, 11.30am, 1pm, 2.30pm, 5.30pm, 7.30pm
Sunday 10am, 11.30am, 1pm, 2.30pm
Bookings required.
Age Requirements
All Ages
Accessibility
Partially wheelchair accessible
Accessible parking nearby

Location
420 Paternoster Road, Mount Burnett 3781