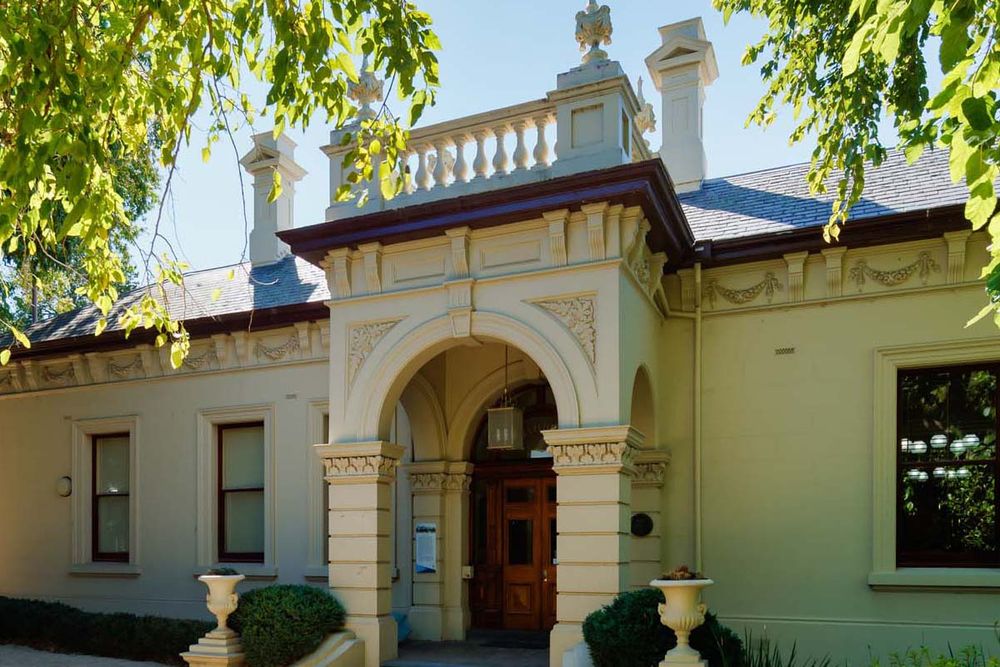 Northbrook and the Stonnington History Centre
Description
Northbrook is a Victorian Italianate villa built in 1888–1889 to the design of architect Charles D'Ebro. The house was originally set on 2.5 acres of gardens facing High Street and included a 160sqm ballroom, timber outbuildings and brick stables.
Northbrook features a small portico with pressed-metal ceiling, elaborate mouldings and a balustrade parapet. The black-and-white marble floor of the entrance foyer leads to the main vaulted vestibule, featuring heavily panelled timber walls, a large over mantle with inlet mirrors and detailed encaustic tiles in the fire surround.
The two smaller vestibules leading into the Morning and Dining Rooms feature elaborate, stencilled-and gilded vaulted ceilings with cherubs, while the rooms themselves boast elaborate cornices, ceilings, centre roses and over mantles. In the Dining Room is timber panelling, as well as three built-in sideboards and a large over mantle.
The building has been owned by the council since the mid–1940s, and the Stonnington History Centre has occupied the building since 2008. A branch of the Library and Information Services, the centre maintains the council's extensive archives.
What's On
Discover the history of the Italianate villa Northbrook. View items in Stonnington's history archive collection, which includes photographs, building plans, maps and realia. Meet our knowledgeable staff and learn of our programs and services on offer.
Images: (1) Northbrook, Malvern. (2) The dining room at Northbrook. (3) The Northbrook vaulted vestibule. All photos: Image Play 2019.
Important Details
Time & Date
Saturday 30 July
Open 10am-1pm
Age Requirements
All Ages
Accessibility
Accessible bathroom
Accessible parking nearby

Location
1257 High Street, Malvern 3144