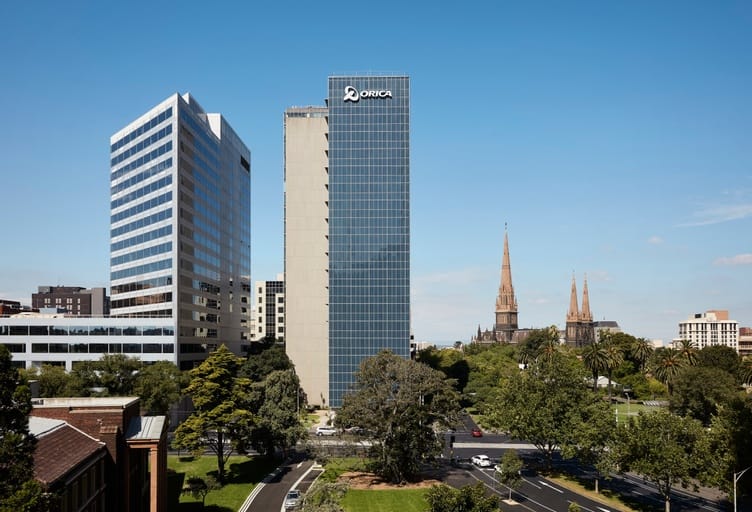 Orica House at 1 Nicholson Street
Completed in 1958, Orica House, or ICI House as it was originally known, is considered Australia's first skyscraper. The building was the first to break Melbourne's height restrictions, thereby setting a precedent for taller buildings within the city.
The freestanding, fully glazed curtain wall skyscraper, with its clearly demarcated lifts and services, is considered Bates, Smart & McCutcheon's most refined building of the post-war period. The building is an example of Australia's contribution to the modernism movement, exemplified by international architects like Skidmore, Owings and Merrill, Gropius, Mies Van der Rohe, and Le Corbusier.
The 19-storey tower, not formally part of the CBD's Hoddle Grid, was permitted under the uniform building regulations because the site coverage was examined as a percentage of the total site area. This led to plot ratio determinations for city sites and the eventual redefinition of the Melbourne's skyline. The building also employed a number of innovative advancements in construction techniques, including the use of concrete and precast units in structural members and flooring.
Entry is now via Albert Street, however, the original entrance was through the gardens off Nicholson Street. The foyer was sympathetically remodelled in 1989 by the original architects, Bates Smart.
Australia's first skyscraper
Images – top: (1) Orica House Exterior, photo: Tom Roe. (2) Orica House Street View, photo: Tom Roe. (3) Orica House Ground Floor Lift Lobby, photo: Tom Roe.
Important Details
Time & Date
Saturday 24 July + Sunday 25 July
Orica House film by Charter Hall available
to watch on demand, or scroll below.
Online guided architecture tour by
Bates Smart, view via Instagram below:
GUIDED TOUR
Location
1 Nicholson Street, East Melbourne 3002