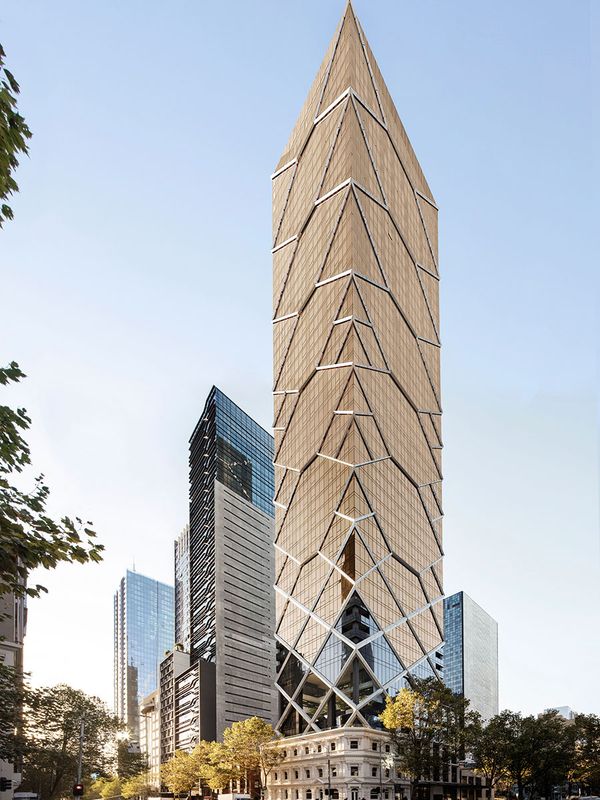 Paragon: Sanctuary in the City
Description
Paragon by Beulah is a mixed-use, 48-level residential tower on a prominent corner of Melbourne's CBD. Built for metropolitan living, its design is about creating a sense of identity by transforming a piece of the Melbourne cityscape into an urban sanctuary.
Retaining the heritage facade of the former Melbourne Celtic Club, Paragon juxtaposes old and new and capitalises on a small footprint within an elevated site while meeting post-pandemic living needs through its low density (there's a maximum of six residences per level).
The premium residential amenities and luxurious social landscape of this multi-residential tower make it a restful sanctuary in the heart of the city.
Unfurling across three storeys, a first-of-its-kind 'urban forest' provides relief between the main tower and heritage facade. At three levels in height this living green serves as the backbone for the common linked areas and encourages a connection to nature.
Paragon's compact design and amenities, with interior spaces focusing on identity and the experience of city living, deliver optimal high rise living.
What's On
A summary of Paragon and its architectural vision followed by a tour of the building and residential amenities, in particular the urban forest, as well as theatre, library, lounge, bar, pool, gym and spa. Ends with a Q&A session in the forest.
All photos: Willem-Dirk du Toit.
Important Details
Time & Date
Saturday 30 + Sunday 31
Tours run 11.30am, 12.30pm, 2.30pm and 3.30pm
Tours run for 60 minutes in groups of 10

No bookings required. Tour group capacity is limited and operates on a first come, first in basis.
Accessibility
Accessible parking nearby
Partially wheelchair accessible
Accessible bathroom

Location
318 Queen Street, Melbourne, Victoria 3000