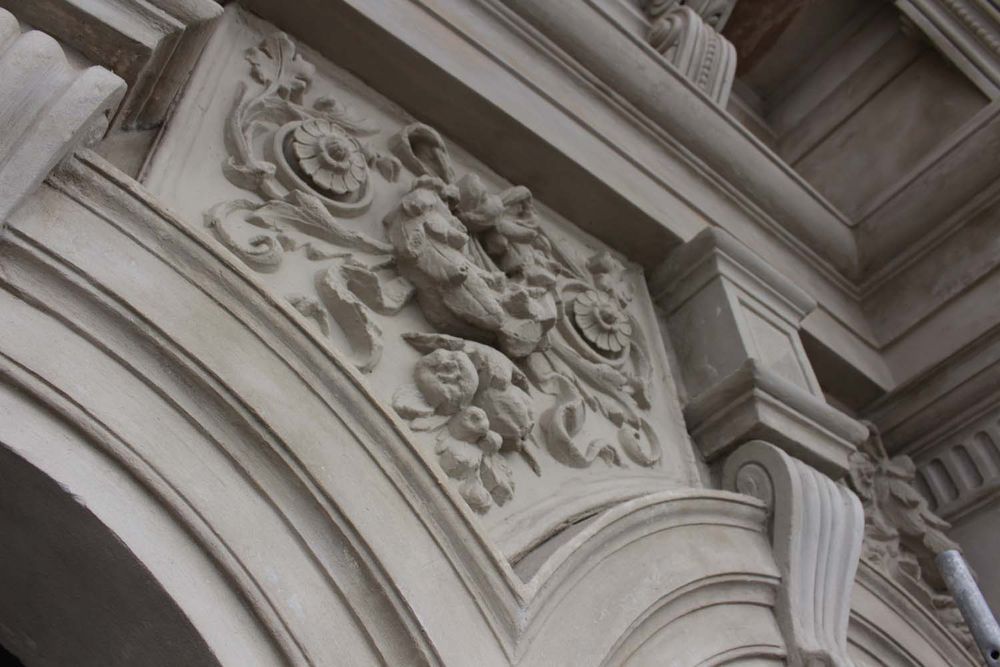 Prahran Arcade – Facade Conservation
Description
Prahran Arcade opened in August 1890 and has since been known for its grand frontage. Originally, its ground level was accessed via both Chapel and Arcade streets (now Little Chapel Street), and consisted of 29 shops, including a tailor, café, watchmaker, florist, confectioner, fruit shop, frame maker, oyster saloon and dressmaker. In the following 130 years it has also been home to artists, wine stores, and more recently to Dan Murphy's and JB Hi-Fi.
Substantial conservation works have been carried out to the façade of the building. The façade has been cleaned and the many layers of later paint finishes removed. Render repairs across the façade include decorative elements such as the column capitals, fleur-de-lis and the distinctive pair of eagles perched at second floor level. Conservation works were also carried out to cast iron down pipes, decorative metalwork friezes and the elaborate cast iron columns. The various parts of the façade have been refinished following retrieval and laboratory analysis of samples to establish the original decorative schemes. Where possible remnant historic signage has also been conserved.
These works have reinstated the original, highly elaborate appearance of the Chapel Street frontage of the Prahran Arcade, having a positive impact on the broader Victorian and Federation period character of the Chapel Street Precinct and the streetscape in general.
What's On
Join an online event with RBA heritage and conservation experts discussing the multiple layers of the building's history, uncovered through detailed research and during the conservation works to the façade and balconies.
Contemporary digital recording techniques used to understand the complex existing condition of the building will be discussed, along with the methods used to conserve the building's heritage, and promote contemporary thinking and design.
Participants are encouraged to take a stroll down Chapel Street at their convenience and experience the newly renovated façade and its exquisite detail.
Images: (1-2) Facade ornamentation details. Photos: RBA Architects. (3) Photogrammetry model of Prahran Arcade's signage remnant. Photo: RBA Architects. (4) Prahran Arcade Elevation. Image is provided by the owner and thought to originate from Building and Engineering Journal, 31 August 1889. (5) Prahran Arcade side view (1891). Photo: Stonnington History Centre PH9584.
Important Details
Time & Date
Saturday 30 July
Online talk 10am-11am.
Registration required.
Age Requirements
All Ages
Accessibility
Quiet rooms

Location
282 Chapel St, Prahran 3181