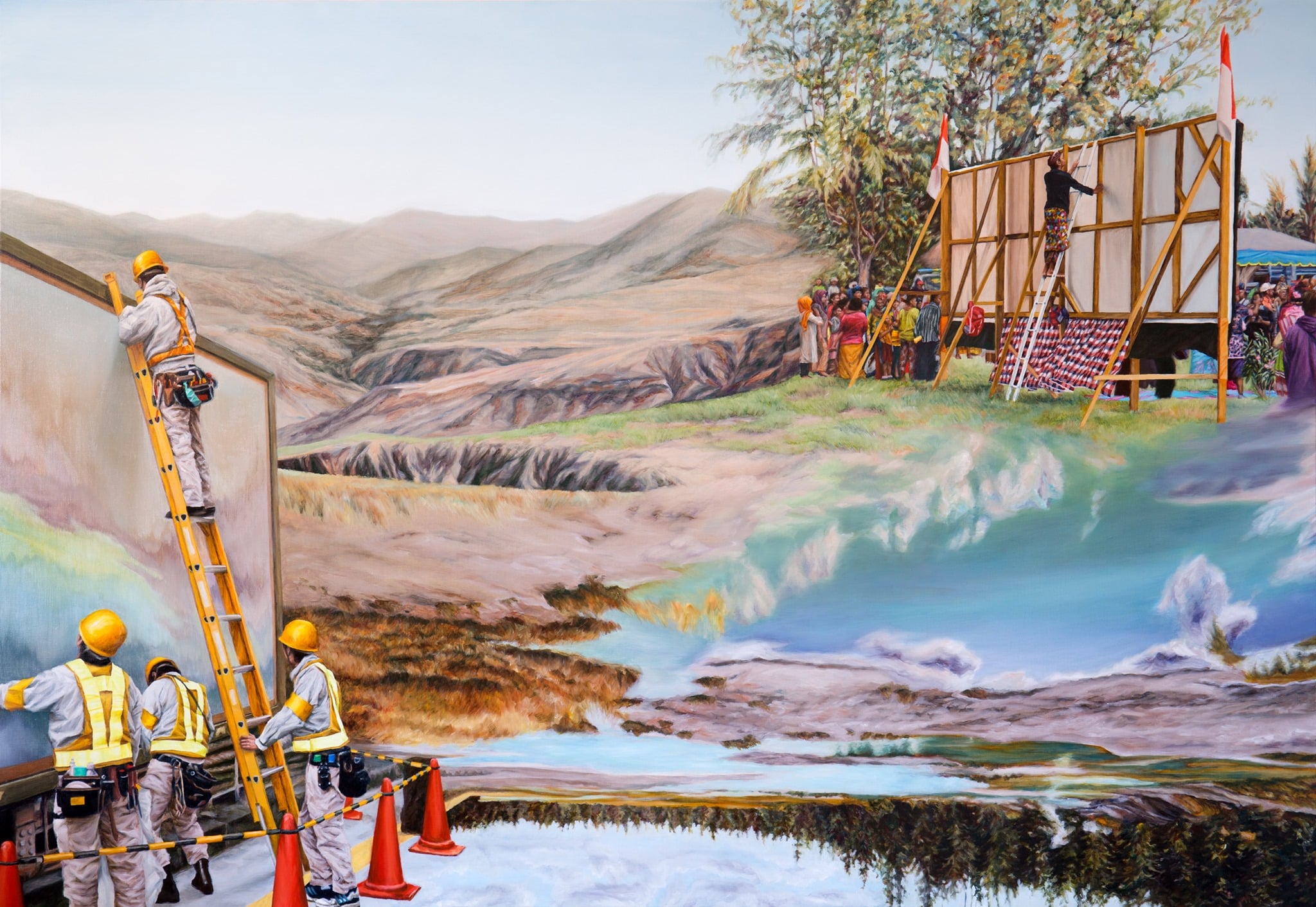 Shelter in Place – Panel Discussion
Building Description
THE EXHIBITION
'Shelter in Place' is a major exhibition at Town Hall Gallery examining the relationship between human beings and architecture. This group exhibition focuses on the ways in which our built environment is used to foster ideas of home, shelter and belonging.
Through lived experiences, the evolution of society and the passing of time, private and public spaces such as houses, apartments, workplaces, community buildings and places of worship become repositories of histories and memories. The artists in this exhibition interrogate themes such as materiality and memory, ownership and the 'Australian Dream', and dispossession and displacement.
Through the mediums of painting, film, sculpture and installation, 'Shelter in Place' explores the emotional importance we place on our physical spaces. These spaces become reflections and relics of ourselves both individually and collectively as a society.
Featuring: Alfredo & Isabel Aquilizan, Kevin Chin, Mason Kimber, Eugenia Lim, Shannon Lyons and Polly Stanton.
What do our buildings and landscapes say about who we are, and who we want to be?
What's On
ONLINE PANEL DISCUSSION
What do our buildings and landscapes say about who we are, and who we want to be? What is erased as we construct spaces based on our competing ideas of identity and belonging? Join our online panel as they explore these questions in the context of their art practice, work in the community, and their lived experience.
You will hear from artists including Kevin Chin, Mason Kimber and Polly Stanton. You will also hear from Town Hall Gallery Curator, Stephanie Sacco, and CEO of Servants Community Housing, Amanda Donohoe.
This interactive discussion will be moderated by Associate Lecturer at RMIT Architecture and Urban Design, Vicky Lam.
This free event will be delivered over Zoom.
Accessibility
Auslan-interpretation can be provided for this event. Please make a note at the time of booking, or contact Boroondara Arts via email at townhallgallery@boroondara.vic.gov.au
Image: (1) Kevin Chin, 'Another Rung', 2019, oil on Italian linen, 138 x 199cm, image courtesy of the artist, Martin Browne Contemporary, Sydney, and THIS IS NO FANTASY, Melbourne.  (2) Polly Stanton, 'Three Rooms', 2014, HD video and surround sound, image courtesy of the artist.
Important Details
Time & Date
ONLINE PANEL DISCUSSION
Saturday 7 August
11am – 12.30pm

Delivered via Zoom. Registrations required.
Booking link below.

ACCESSIBILITY
Auslan-interpretation can be provided for this event. Please make a note at the time of booking, or contact Boroondara Arts via email at townhallgallery@boroondara.vic.gov.au
Location
Hawthorn Arts Centre, 360 Burwood Road, Hawthorn 3122