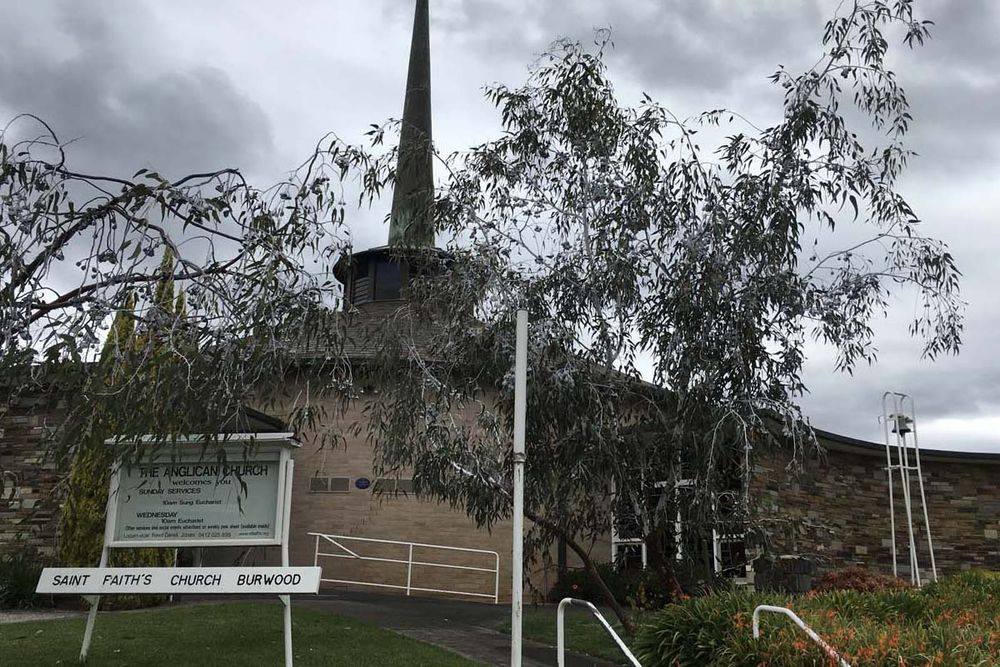 St Faith's Anglican Church Burwood
Description
The iconic St Faith's Anglican Church building was regarded as architecturally exciting when it was built in the late 1950s. Originally, the St Faith's vestry had considered a much more traditional plan. With the support of its young and enthusiastic vicar, the vestry subsequently approved the design submitted by Mockridge, Stahle and Mitchell, considered a rather avant garde practice of the time.
In her 1990 history of the parish ("In Good Faith"), author Catherine Waterhouse notes that the architects "designed everything including the altar, the furniture and pews, the sanctuary lamp and the stained glass".
A courtyard labyrinth is accessible for all those wishing to engage in quiet meditation while walking its paths.
St Faith's is part of the Anglican Church of Australia and the worldwide Anglican Communion. St Faith's church sits on the land of the Wurundjeri people of the Kulin nation, acknowledged as the traditional custodians of this land by the church community.
Further detail on the church can be found on the Victorian Heritage Database, where the building's significance is described as "of architectural significance as a highly innovative ecclesiastical design and one of the first truly modern church buildings in Victoria."
What's On
Explore the interiors and exteriors, with the locum vicar and parishioners available to answer questions and describe the impact of Covid on the life of the parish. Experience the building's history through its architectural drawings, historical photos and a video of the building of the church. There will be displays of ecclesiastical vestments, altar frontals/church decorations. Refreshments available each day.
Children's activities
Colouring activities, toys and books are available in the Narthex.
Images: (1) Exterior with distinctive copper spire. (2) The steel structure of the interior. (3) Chapel. (4) Oratory. (5) Narthex. All photos courtesy Joan Scott
Important Details
Time & Date
Saturday 30 July
Open 11am-4pm

Sunday 31 July
Open 12noon-4pm
Church service 10am-11am. Visitors are welcome to attend service but the church is not open for self guided viewing until 12noon.

Bookings not required.
Age Requirements
All Ages
Accessibility
Fully wheelchair accessible
Accessible parking nearby
Accessible bathroom

Location
St Faith's Anglican Church, 4-8 Charles Street, Glen Iris 3146
Contributors
The Locum Vicar and Parishioners will be present to explain history of buildings/labyrinth/features of building