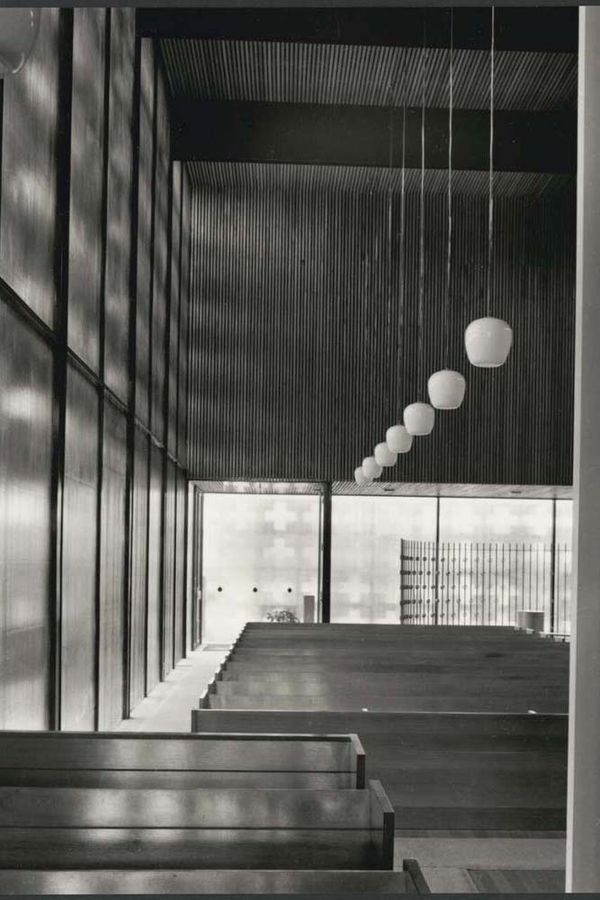 St James Anglican Church Glen Iris
Description
Completed in 1959, St James still operates primarily as a place of Christian worship. Its various rooms are also used by community groups for dancing, art and felt making, and by music teachers and occupational therapists.
Some of the highlights of the building include the black steel column and beam structure, the internal semi-circular metal lattice screen, the timber linear ceiling, the clear lack of ornamentation, and the modern stained glass wall.
During the Open House event, photographs of the building when it was first designed will be on display. These include the original concrete panel wall that was removed due to concrete cancer.
What's On
Visitors are invited to engage, participate or observe how a space is used to worship Jesus. There will be modern and historic worship music played (pipe organ and band), prayers, readings from the bible. Regular worshippers use their whole bodies, standing and sitting, singing and listening, all in the physical space that lifts our eyes upward to the work of Jesus our saving King.
Children's activities
During the worship gathering, 10am-11.15am, a Kid's Club that teaches primary-aged children about Jesus is led by trained volunteers with appropriate safe ministry clearances and training.
Images: (1) Interior, eastern wall showing stain-glass windows, pews, wooden panelled ceiling. (2) Exterior, southern face. The original concrete panel wall was removed due to concrete cancer. (3) Interior, southern wall, baptistry with metal lattice and concrete tiles. All photos: Wolfgang Sievers, 1960 (source: National Library of Australia)
Important Details
Time & Date
Sunday 31 July
Open 9.30am-2pm
10am-11.15am: Sunday worship gathering. Please do not wander around the building during this time. Visitors are welcome to participate, or observe how a space is used to worship Jesus.
Age Requirements
All Ages
Accessibility
Fully wheelchair accessible
Accessible bathroom
Accessible parking nearby

Location
1461 High Street, Glen Iris 3146