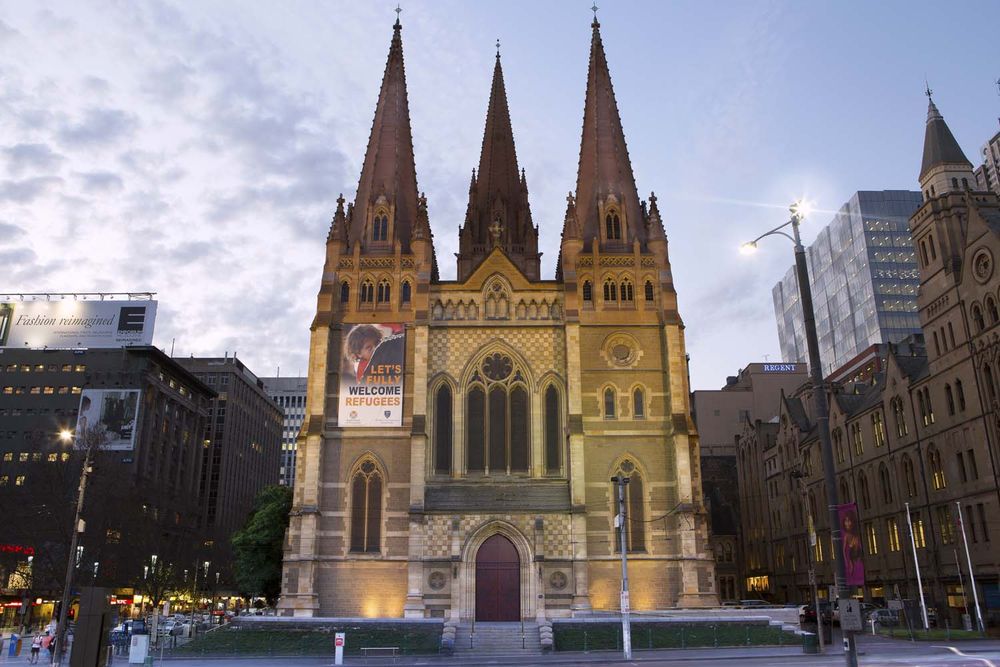 St Paul's Cathedral, Melbourne
Description
St Paul's Cathedral is an Anglican church located prominently on Melbourne's busiest intersection opposite Federation Square. Built between 1880 and 1931, the neo-Gothic building is a Melbourne landmark and Victoria's most visited sacred place, with over 400,000 visitors a year.
Constructed in sandstone, the cathedral's architecture is described as Gothic transitional, combining Early English and Decorative Gothic styles and was designed by William Butterfield. Highlights include the fine polychromatic brickwork, beautifully patterned floor tiles and mosaics, banded stonework, fine timbered roof and tiled dado walls.
Music plays an integral part of worship at St Paul's, and the repertoire of Anglican church music can be heard during services as well as the Cathedral's fine T.C. Lewis Pipe Organ.
The Cathedral Gift Shop stocks a wide range of gifts, handcrafts, devotional items and souvenirs for local artists and craftspeople.
What's On
The Cathedral will be open for self-guided tours giving visitors a chance to explore the many aspects of the Cathedral's history and architecture.
For something extra special, join the Sunday Service to hear the Cathedral's choir and fine organ in action. All are welcome at any service.
Butterfield's Vision
In the Transept Gallery, large-scale reproductions of some of Butterfield's
original drawings, currently in the care of the State Library Victoria, will be
on display. Dating from 1878 to 1884, more than 150 drawings are part of the fabric of Melbourne's story and tell the fascinating history of a building that forever changed the city's landscape. See the plans, drawn and dispatched by Butterfield from England without ever having set foot in Melbourne, that guided the work of local builders.
Children's activities
A children's trail and colouring sheets are available for families to help explore the Cathedral.
Images: (1) Exterior image of the Cathedral. (2) Sun shining through brightly coloured doors. (3) Brightly colour stained glass window lit up by gentle sunlight. (4) The organ facade and pipes. (5) Detailed image of the Cathedral's floor tiles, diamond-shaped with patterns. All photos: Andre Stefan White
Important Details
Time & Date
Saturday 30 July
Open 10am-3pm

Sunday 31 July
Church services at 8am, 10am & 4pm.
Age Requirements
All Ages
Accessibility
Fully wheelchair accessible

Location
Corner Flinders and Swanston Street, Melbourne 3000