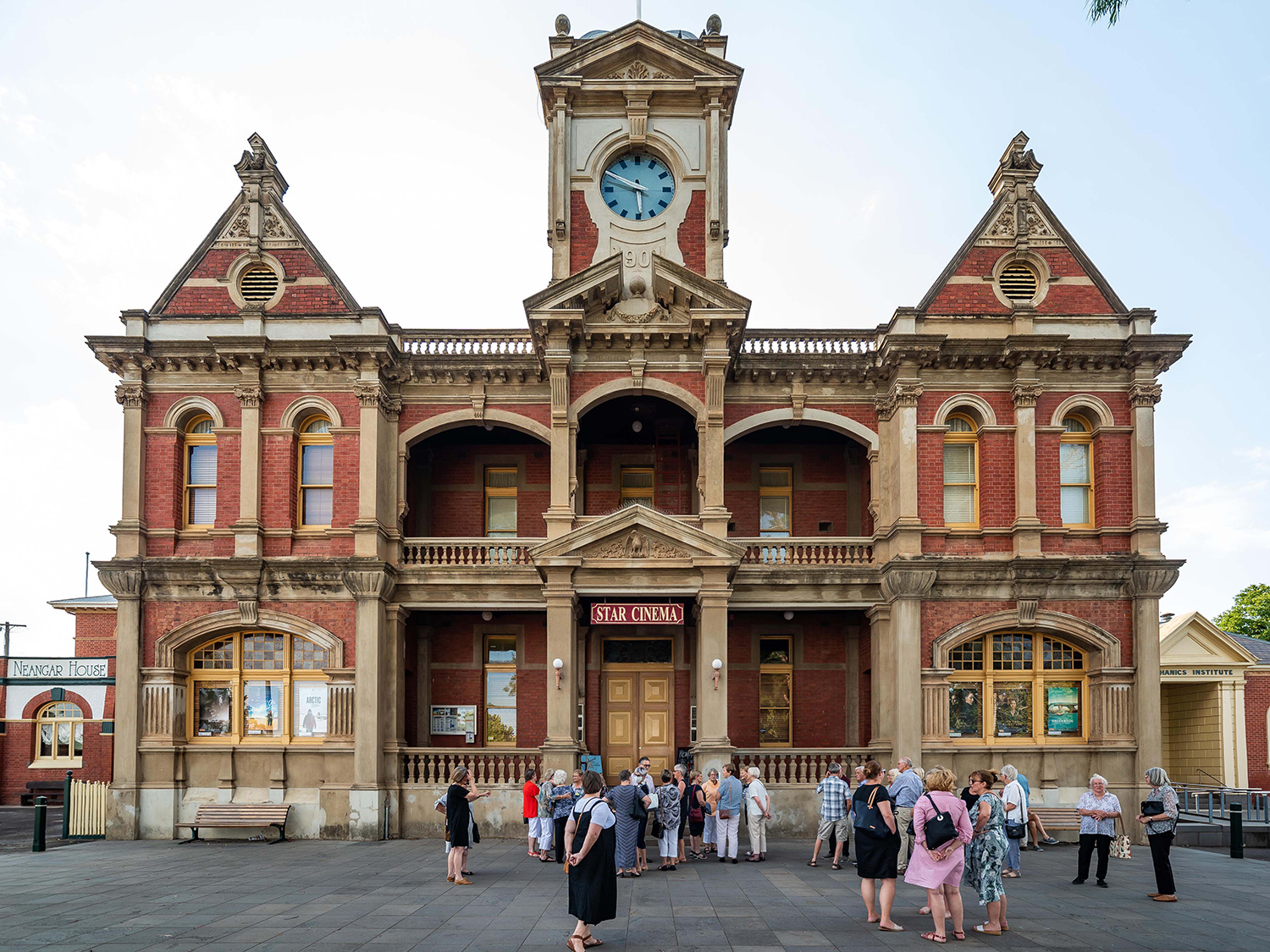 Star Cinema and The Chambers Wine Bar
Description
As the former Eaglehawk Town Hall, this was the symbolic heart of the Eaglehawk community. The first move for a "New Town Hall" was made in June 1897 and the present building replaced the earlier building, opening on 14 August 1901 by the Mayor, Cr George Loudon.
As a much larger and more sumptuous building of brick and stone featuring a central clock tower, the new hall reflected prevailing architectural fashion and was a remarkable investment for a town consisting predominantly of poor mining families.
Cinema has played a major part in this building for almost 100 years. The original cinema, known as Star Pictures began operating in the early part of the last century, however, like many cinemas, it closed in the 1960s due to the popularity of the recently introduced medium of television.
It's now home to the Star Cinema, a not-for-profit community organisation offering a boutique cinema experience providing current releases as well as weekly classics for the local community. The old council chambers have also been reimagined as a wine bar, retaining the charm and character of a bygone era amongst original antique furniture and mayoral portraits.
What's On
Star Cinema will screen Gus Berger's The Lost City of Melbourne (2022), a documentary of Melbourne's rich architectural and social past. It explores the attempted 'modernisation' of Melbourne in the 1950s that destroyed much of the city, including many cinemas and picture palaces.
The Chambers will be open from 5pm Friday 21 October for dinner and drinks (bookings essential) and from 5pm Saturday 22 October for drinks only. The elegant wine bar is a popular watering hole so we do encourage bookings here.
The cinema space will also play host to Open House Bendigo's regional premiere of Modern Melbourne, with this episode's "star" Peter Elliott in conversation afterwards. More details and bookings for that here.
For information on other film screenings at the boutique cinema across the weekend, visit Star Cinema.
Images: Courtesy of Star Cinema.
Important Details
Time & Date
The Lost City of Melbourne screenings
Friday 21 Oct, 8pm
Saturday 22 Oct, 8pm
Sunday 23 Oct, 1pm
Age Requirements
All Ages
Accessibility
Fully wheelchair accessible
Accessible bathroom

Location
2 Peg Leg Road, Eaglehawk VIC 3556