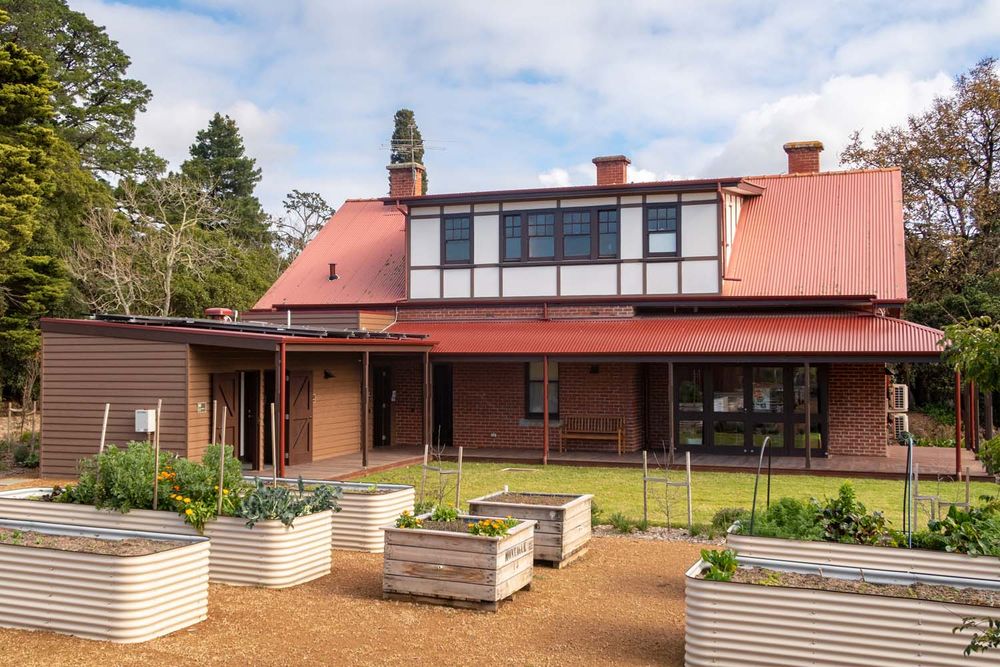 Strathdon House
Description
Strathdon House has a rich history. The commercial orchard was established in the 1890s by William John Fankhauser and the house constructed in 1893. The homestead was subsequently purchased by the Matheson family, who extended the house in 1918 to suit their changing lifestyles and operated the orchard until WWII, when labour shortages made it unviable and the land was subdivided. The site was earmarked for a freeway reserve until it was eventually acquired by the City of Whitehorse in 1988 for community use. It is now the gateway site to the Healesville Freeway Reserve, a new stretch of parklands extending to the Dandenong Mountains, providing opportunities for recreation and connection with nature in Melbourne's east.
Lovell Chen's masterplan unlocks the potential of the property, with the first stage recently completed – the adaptation of Strathdon House, revitalisation of the landscape and activation of the precinct. The primary objectives were to maintain the character and heritage values of Strathdon House and its site, adapt the house for public access, re-establish the orchard and garden, and support the council's wider aims by creating a multi-use wellbeing and sustainability hub.
Strathdon House and gardens provide opportunities to engage with educational programmes, gardening, nature play and picnics. 
What's On
Tina Tam, senior associate and project architect, and Josephine Harkin, the Strathdon Precinct Coordinator will guide visitors through Strathdon House and surrounding landscape to explain the design process from inception to completion. They will share insights into the built/unbuilt masterplan, the design process to 'unlock' the building and adapt it for community use, and conservation of the building.  
An interpretation exhibition displaying artefacts of the homestead's history will be open during the Open House Melbourne weekend.
Images: (1) Strathdon House, Eastern exterior. (2) Strathdon House, View from the main entrance. (3) View of the garden from Strathdon House. (4) Strathdon House, Reception Room. (5) Strathdon House, Shed interior. (6) Strathdon House, Entrance Hall. Credits: (1-4, 6) Lovell Chen. (5) Whitehorse City Council.
Important Details
Time & Date
Saturday 30 + Sunday 31 July
Open 10am-3pm

Sunday 31 July
Tour starts at 10am
Running for 60 minutes for a group of 25 people.
Bookings not required. Tour group capacity is limited and operates on a first come, first in basis.
Age Requirements
4 years and above
Accessibility
Partially wheelchair accessible
Accessible bathroom
Quiet rooms
Social Story
Accessible parking nearby

Location
449 Springvale Road, Forest Hill 3131
Contributors
Tina Tam, Senior Associate and Architect
Josephine Harkin, Strathdon Precinct Coordinator