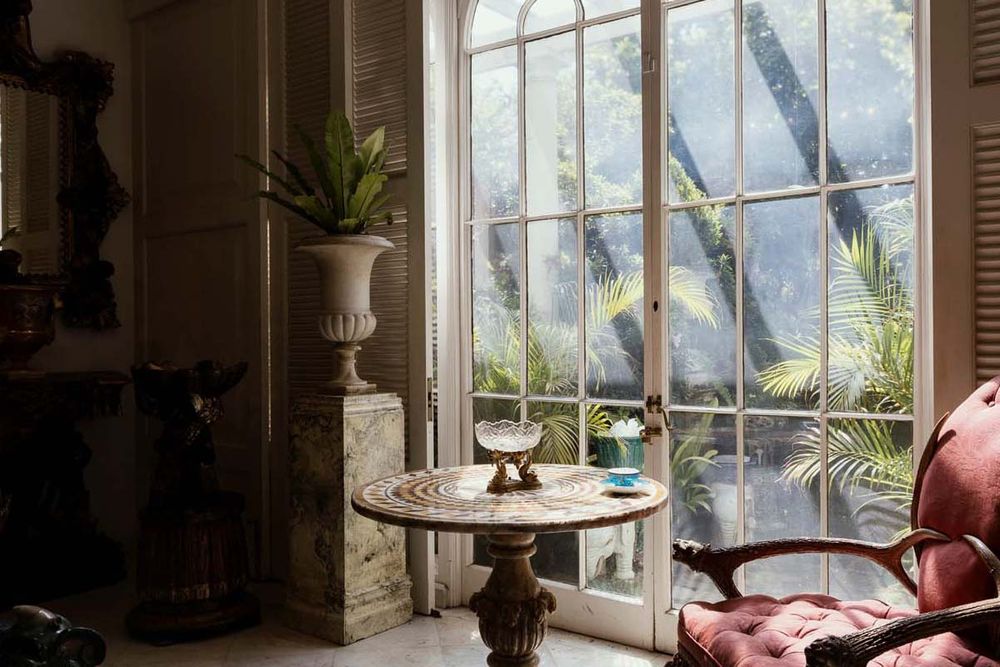 The Johnston Collection
Description
Built in 1860 for dental surgeon, James Cumming, Fairhall was originally a single-fronted house of four rooms. It was extended sideways to its current double-fronted arrangement in 1870.
In 1883 Cummings sold the house to George Hamilton Dougharty, landowner and stock and station agent, who named it Cadzow (from the Celtic, "cadihou", meaning "beautiful castle") after the town in Scotland where the Dougharty family house, Fairhall, was situated. The Dougharty family remained in the house until they sold it to William Robert Johnston, antique dealer and collector, in 1952. He changed the name of the house to 'Fairhall' and made many alterations inside and out.
All the windows were reglazed to create twelve Georgian style paned windows, and a Georgian fanlight replaced the original. At first Johnston let the house as flats, but later lived there himself until his death in 1986.
In 1986 William Johnston bequeathed Fairhall and his astonishing collection of fine and decorative arts to the people of Victoria. Fairhall officially opened to the public in 1990, and continues to operate today as a house-museum that offers tours of the collection to the public.
What's On
Join a tour and enjoy a visually enticing display of over 400 years of art history and share William Johnston's lifetime passion for collecting. The collection of English Georgian, Regency, and Louis XV fine & decorative arts and objet d'art is displayed in a constantly changing domestic setting in Fairhall, an historic East Melbourne townhouse.
Images: (1) The Green Drawing Room at The Johnston Collection, East Melbourne. (2) The Entrance Hall at The Johnston Collection, East Melbourne. (3) Fairhall photographed in 1900. Photographer unknown. (4) Detail from 'Objects of My Affection: stories of love from The Johnston Collection', 2021. (5) The Yellow Room at The Johnston Collection, East Melbourne. Photos 1-2, 4-5: Adam Luttick
Important Details
Time & Date
Saturday 30 + Sunday 31 July
Tours run 10am, 12pm, 2pm
Tours run for approximately 1.5 hours, in groups of 22 people per group.
Bookings required:
https://johnstoncollection.org/
Age Requirements
8 years and above
Accessibility
Accessible bathroom
Partially wheelchair accessible
Accessible parking nearby

Location
192 Wellington Parade, East Melbourne 3002