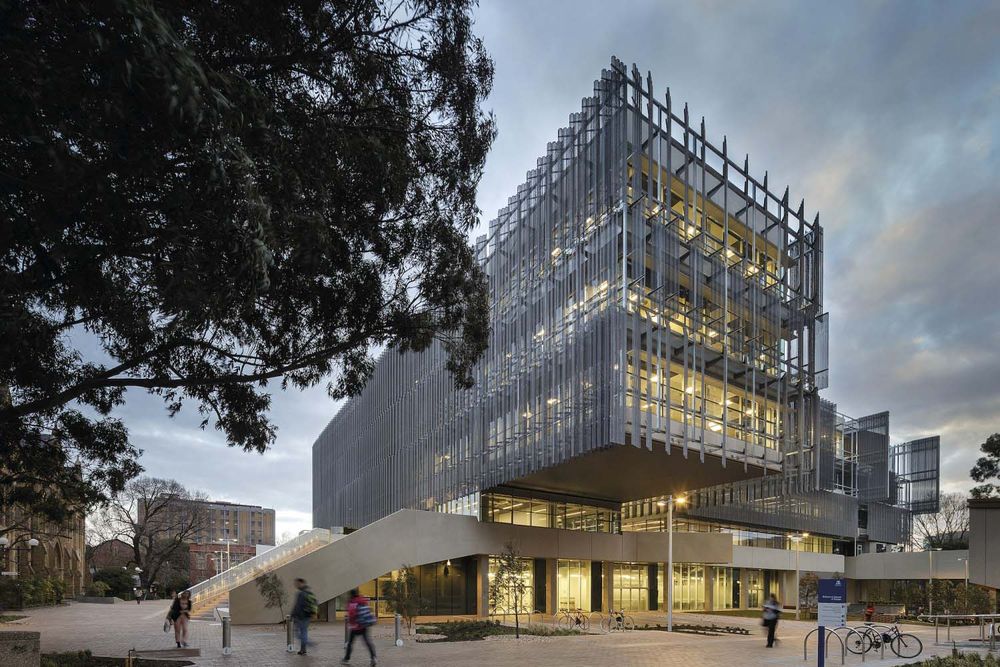 University of Melbourne, Parkville Campus: Melbourne School of Design
Description
Located at the centre of the University of Melbourne's Parkville campus, the Glyn Davis building houses the Faculty of Architecture, Building and Planning and its graduate school, the Melbourne School of Design. The state-of-the-art facility, designed collaboratively by John Wardle Architects (Melbourne) and NADAAA (Boston), is a large-scale laboratory for built environment education and research, and sets a new standard for design education in the Asia-Pacific region.
A living learning building, the site has served as an educational tool since 2010. Its transparency supports the vision of a pedagogical space with carefully exposed materials and structures allowing occupants insight into the minds of the designers and the processes of construction.
What's On
Explore the unique interiors including the magnificent indoor plaza, the Brian Lewis Atrium. Visit the 'Sharing Schools, Building Communities' exhibition in the Dulux Gallery and be inspired by the possibilities of local schools as hubs for community connection.
Children's activities
Construct your own school! Visit the Sharing Schools, Building Communities exhibition anytime during gallery hours and make your dream school.
Images: (1) Steel panel-wrapped exterior of the Melbourne School of Design at dusk. (2) North end of the Melbourne School of Design. (3) A feat of architectural engineering, the hanging studio, Brian Lewis Atrium. All photos: John Gollings.
Important Details
Time & Date
Saturday 30 + Sunday 31 July
Sharing Schools, Building Communities exhibition - Dulux Gallery
10am-5pm
No bookings required
Age Requirements
All Ages
Accessibility
Fully wheelchair accessible
Accessible bathroom
Accessible parking nearby

Location
230 Grattan, Street Parkville 3052