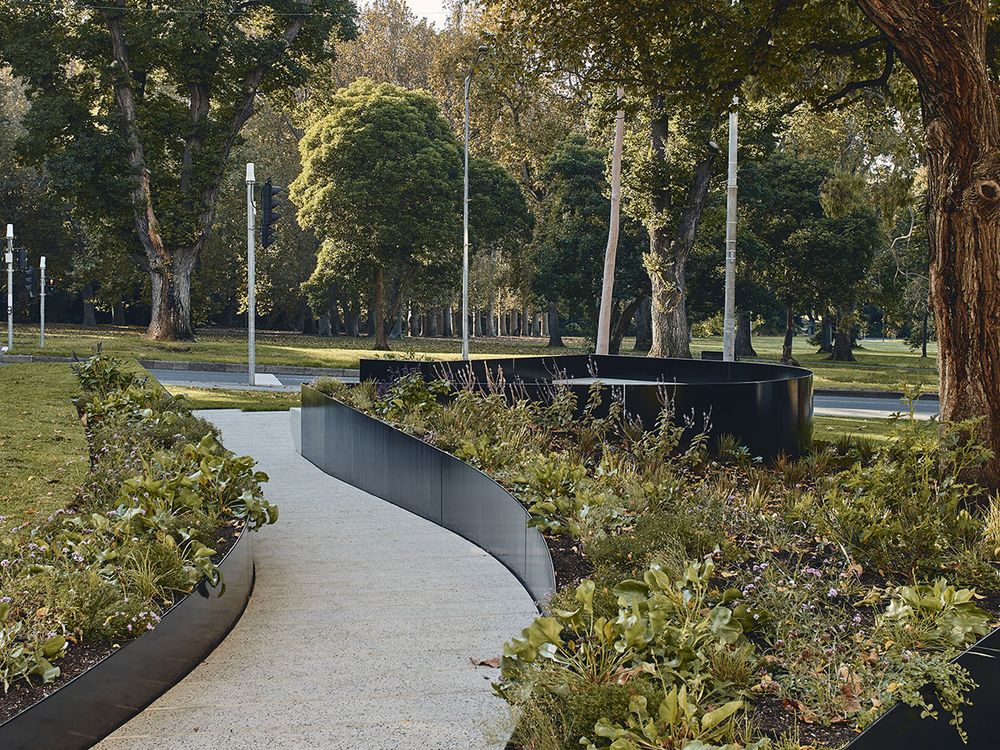 Victorian Family Violence Memorial tour
Description
The Victorian Family Violence Memorial project is the public recognition of the broad scale community impact of this issue, creating a space that recognises the experiences of those affected by it and raising awareness to the shared responsibility we have to address it. Recently completed, the project was a partnership between the state government (Office for Women) and City of Melbourne who led the design and delivery process.
The site was identified as a shared memorial space, offering a place of reflection and healing. A brief was developed, informed by consultation with victims/survivors, and the design team of Muir + Openwork was engaged to develop a concept for the space. Engagement with Traditional owners informed the design, along with involvement throughout the process by Victims Survivors Advisory Council representatives in the working group.
The project is a landscape memorial, creating a place that holds the visitor and whose design embeds many layers that speak to the gravity and sensitivity of the issue. A site tour will allow visitors to experience the space whilst hearing about the project and the design from those involved in its creation.
What's On
A tour and panel discussion will be held with Amy Muir (Muir), Mark Jacques and Liz Herbert (Openwork), Skye Haldane (City of Melbourne), Jennifer Jackson and Russell Vickery (Victims Survivors Advisory Council) and Sarah Lynn Rees (Jackson Clements Burrows Architects). Visit the memorial, hear about its development, meaning and the intent of the design from varying people involved in the evolution of the project.
Content Warning: Discussions of family violence
Images: Victorian Family Violence Memorial by MUIR+OPENWORK. Photos: Peter Bennetts.
Important Details
Time & Date
Saturday 30 July
Tour and panel discussion begin at 10am
Running for 1 hour
Bookings not required. Group capacity is limited and operates on a first come, first in basis.
Age Requirements
All Ages
Accessibility
Fully wheelchair accessible
Social Story

Location
St Andrews Place Reserve, Cnr St Andrews Place and Landsdowne Street, East Melbourne