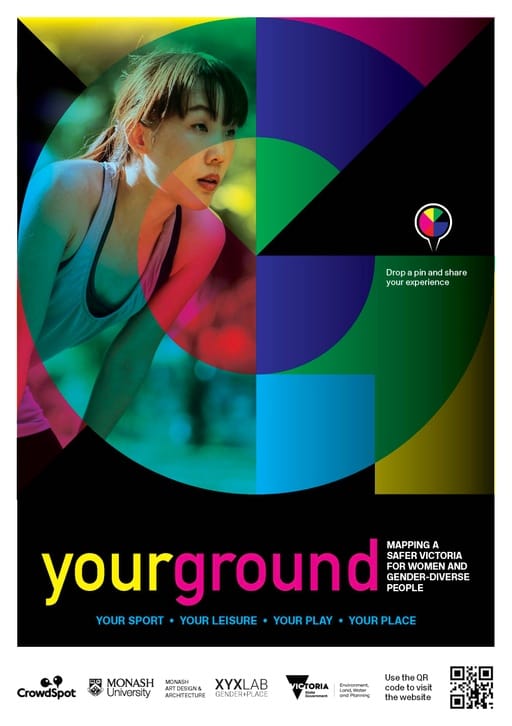 Walk YourGround: Towards Safer and More Equitable Cities
Description
Concerns about personal safety in public space are pervasive for women* and gender-diverse people. Individual perceptions of safety alter behaviour with significant impact on health and well-being. For many, moving around their local community is complex and requires the avoidance of certain places, restricting movement and changing preferred patterns.
As the impact of gendered violence reverberates across society, Monash University's gender, design and space specialists, XYX Lab, and award-winning digital consultancy, CrowdSpot, have teamed up with 24 partners to crowdsource perceptions of safety in public space.
Your Sport. Your Leisure. Your Play. Your Place. Your Ground.
Understanding where movement and access is restricted for women and gender-diverse people.
Important Details
Time & Date
Saturday 24 + Sunday 25 July

An online introduction to mapping safer and more equitable cities with YourGround, scroll below to watch.

This content reflects on the complexity of public space through videos, stories and the lived experiences of women, girls and gender diverse people. It is a call to action to engage with gender-sensitive design in cities and communities. Video will be active throughout the course of the Open House Melbourne.

Look out for in-person and live tours or Walk YourGround later in the year in Stonnington, Port Phillip, Monash, Maribyrnong, Latrobe, Geelong and Dandenong.
Accessibility
Closed Captions

Location
Across Melbourne and regional Victoria