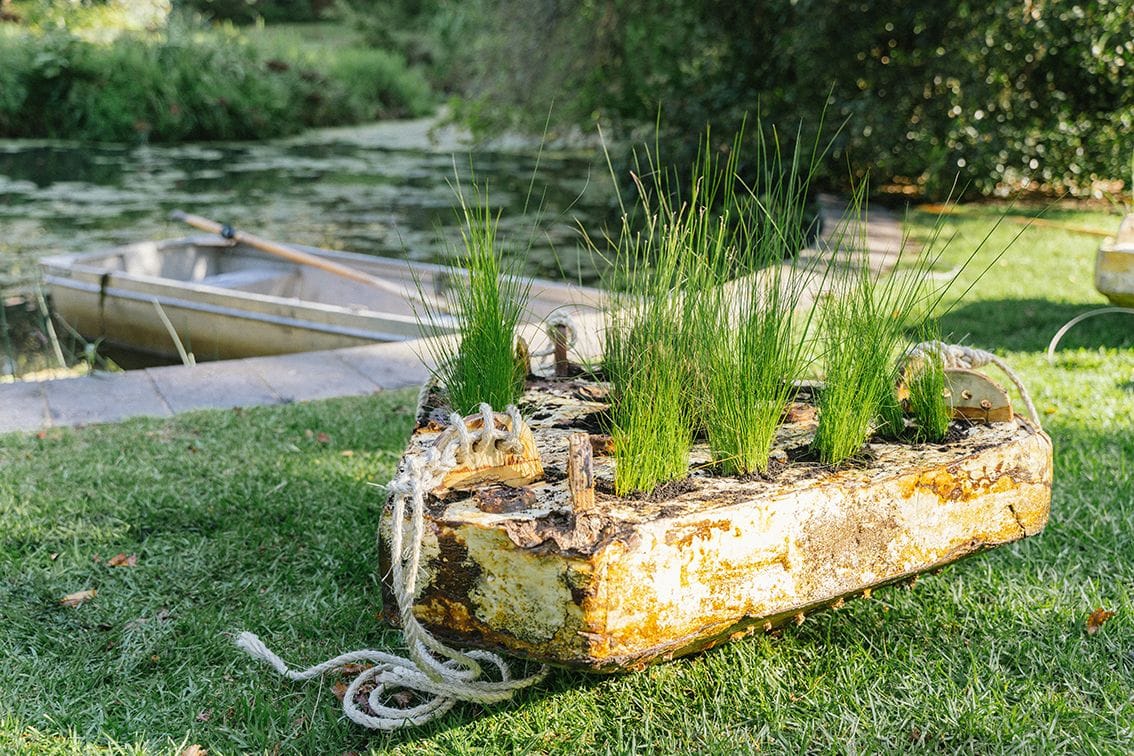 Waterfront: 'Mushi' – Concept to Prototype
An exciting new collaboration between Arup, Swinburne University and Studio Edwards is being trialled in the Royal Botanic Gardens Victoria, Melbourne Gardens. The floating wetland prototype affectionately known as 'Mushi' (pronounced 'moo-she') will test how mycelium (the roots of fungi) can harbour plant growth to clean our chemically sensitive rivers, making future-proof bio-ecologies.
The floating wetland will be created from a series of interlocking triangular-shaped modules about 800mm in diameter. The modules are composed of a mixture of mycelium and local organic waste. The mycelium material is set within specially designed moulds and expands to form the structure of the floating wetland. Above the surface, native wetland plants will grow within the compound which creates habitat for insects and birds.
This is a tangible opportunity to test and assess the mycelium floating wetland concept that marks the first trials of floating mycelium-based structures. Shortlisted as an entry for the Victorian Design Challenge in 2019, the wetland has been developed by ARUP and Swinburne University in conjunction with Studio Edwards.
'Mushi' aims to clean our rivers, making future-proof bio-ecologies.

Online presentation guest speakers include:

Dr Tom May (Royal Botanic Gardens)
Dr Tom May is a Principal Research Scientist in mycology at Royal Botanic Gardens Victoria. Tom has published widely on fungal taxonomy, ecology and conservation in scientific and popular literature, including the FunKey app and the recently published book Wild Mushrooming. He was awarded the Australian Natural History Medallion in 2014.
Alex Reilly (Arup)
Alex is an engineer working in the Environment and Resources group at Arup Melbourne. He is passionate about sustainable development and generating novel approaches to energy and water products.
Daniel Prohasky (Swinburne)
Daniel Prohasky is an architectural engineer and roboticist passionate about translating research towards accelerating the scaled adoption of exciting, resourceful, and low-carbon architecture. Daniel pursues the multidisciplinary integration of knowledge and systems of design with a focus on the development of novel systems to build exciting cities of the future.
Canhui Chen (Swinburne)
The designer embracing algorithms to make the complex possible. Canhui explores the synergistic relationship between computational modelling, manufacturing technologies and fabrication processes. He's particularly interested in how the use of digital data can bring new life to traditional manufacturing and construction techniques. And, how it can make sophisticated and beautiful architecture affordable.
Ben Edwards & Nancy Beka (Studio Edwards)
A Melbourne based design practice established in 2016  to bring together architecture, interiors & conceptual design with a dedication to pushing these disciplines in innovative and unexpected directions. The work is defined by elegantly crafted responses that employ inventive solutions to complex situations.
Event co-presented by Arup, Swinburne University, Royal Botanic Garden Victoria and Studio Edwards. Waterfront is proudly presented by Centre for Architecture Victoria | Open House Melbourne, in partnership with Department of Environment, Land, Water and Planning and East Gippsland Shire Council. Waterfront is part of Melbourne Design Week 2021, an initiative of the Victorian Government in collaboration with the NGV. 
Important Details
Time & Date
Installation:
Friday 26 March – June 2021
Royal Botanic Gardens Victoria
Melbourne Gardens
Free, no booking required
View the recorded online presentation here or scroll below:
Location
Royal Botanic Gardens Victoria - Melbourne Gardens