Waterfront: Skipper Pete Selects # 2
Narrow track leaves carpark on eastern side. This 1km track was constructed by a local community group. The track continues past Salmon Road to arrive at Marlin Road. Follow Marlin Road east for 150m then narrow track to Beacon Reserve Viewing Platform. From here, the track is not well defined thus follow in front of private houses, easterly for 800m to Lake Tyers Caravan Park. Follow along the Caravan Park coastal boundary and past a row of holiday cabins. Down a few steps, past a toilet block to Lake Tyers Tavern Carpark.
RETURN options: 
Retrace walk. 

Walk to Ocean Beach and head west for 2km along beach to Red Bluff Carpark access track. 

Walk back along Lake Tyers Road pathway to Salmon Road and then west via bush tracks (marked RB) to Red Bluff Car Park.
Skipper Pete
Skipper Pete has been conducting education tours on the Gippsland Lakes for over 13 years. Before moving to Lakes Entrance in 2007, he held a number of positions with the Victorian Government including cartographer, management of coastal and marine national parks, and curator of an environmental education exhibition at Museum Victoria. Since then, Skipper Pete trained as a certified eco-guide with Eco-Tourism Australia, been involved in many local wildlife research projects and represented the nature-based tourism industry on various boards and committees.
Follow a lesser known trail from Red Bluff Beach to Lake Tyers Tavern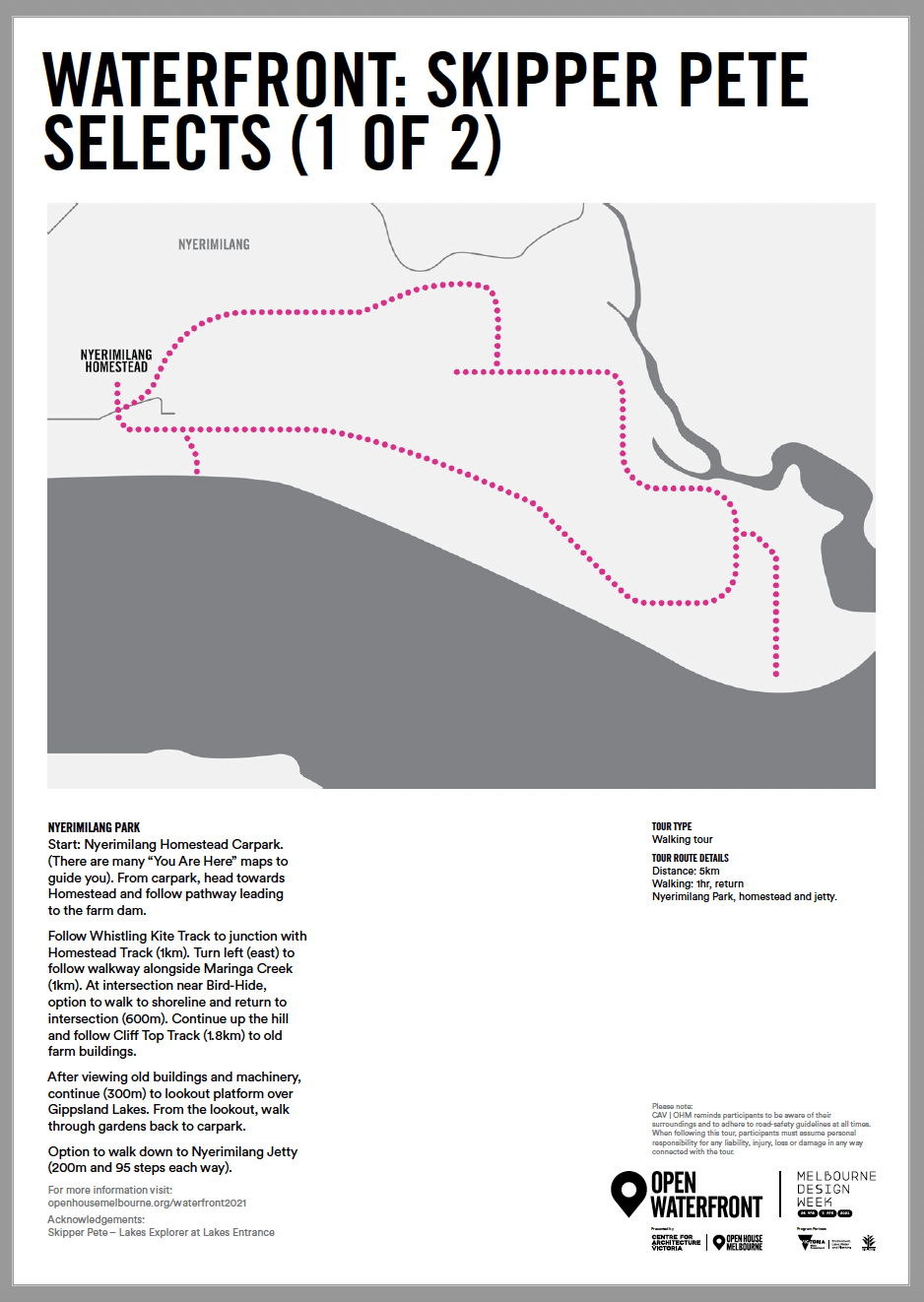 Important Details
Time & Date
Self-guided tour
FREE, no bookings required
Download a print-ready pdf
View on Google Maps
Tour type:
Walking tour 
Tour route details: 
Distance: 6km
Walking: 1.5hr, return
Red Bluff to Lake Tyers Tavern (and return)
Accessibility
Limited accessibility: sandy terrain, not wheelchair accessible.