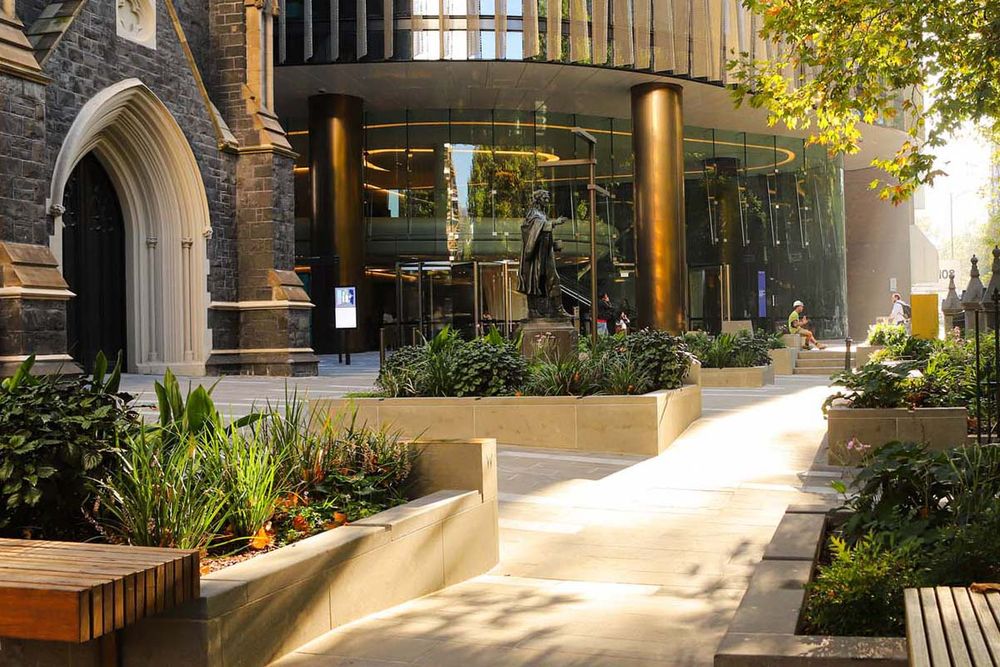 Wesley Place Public Realm
Description
Wesley Place is a new development on the site of the Wesley Church, a Uniting Church in the centre of Melbourne. Steeped in history, the complex of heritage buildings is integral to the site's character, respected and celebrated by the landscape design.
The project includes a substantial public realm offering at 48 percent of the entire site (3245m2). The construction of a new 55,000m2 office tower (Cox Architecture) on the north-east of the site will activate the precinct, bringing 5,500 office workers to the site daily. New retail space will further activate the public realm.
The landscape design complements and enhances existing built heritage aspects while carefully negotiating existing vegetation, heritage buildings and a new contemporary office tower.
The layout of seating, gardens and lawn respects the orthogonal layout of the buildings, with textures connecting the new with the old. The open lawn at the Little Lonsdale Street end provides a generous space focused around mature trees.
Wesley Place is an important addition to inner Melbourne's public spaces. Using natural desire lines through the site to reconnect the city centre with this significant group of buildings, it offers refuge from the adjoining city streets.
What's On
Tim Mitchell, Senior Associate at OCULUS Landscape Architecture and Urban Design, will lead a tour through the recently completed public gardens at Wesley Place, and take visitors along the journey of establishing a contemporary landscape at this significant heritage site.
Images: (1-5) Wesley Place. All photos: Molly-Rose Coulter
Important Details
Time & Date
Saturday 30 July
Tours run 10am, 11am
Running for 30 minutes in groups of 20 people.
Bookings not required. Tour group capacity is limited and operates on a first come, first in basis.

Sunday 31 July
Open 9am-6pm (no tours)
Age Requirements
All Ages
Accessibility
Fully wheelchair accessible

Location
130 Lonsdale Street, Melbourne 3000