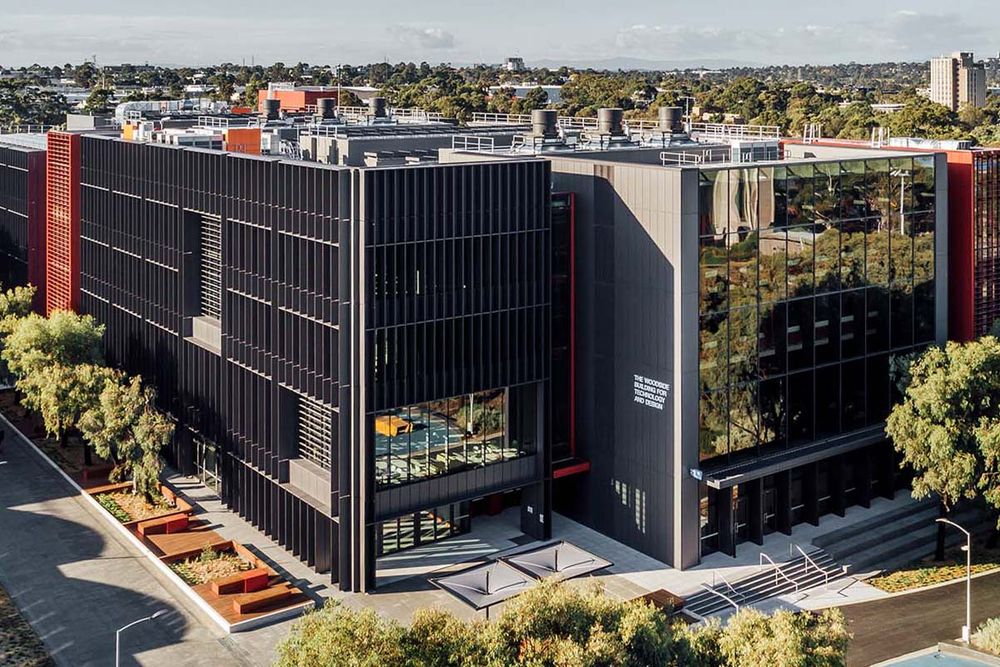 Woodside Building for Technology and Design
Description
Honoured with Australia's highest awards for sustainable architecture and public architecture at the 2021 National Architecture Awards, the Woodside Building for Technology and Design at Monash Clayton campus is a transformational facility for the faculties of Engineering and Information Technology. The 19,800sqm building enables new models of learning alongside academic research and administration and establishes precedent-setting environmental innovation. Amongst the largest Passivhaus certified education buildings in the world, Woodside is a key milestone in Monash's Net Zero Strategy towards achieving carbon neutral by 2030.
As a 'living lab' it enables students to learn from their environment, with exposed building services, structural elements, and monitoring systems incorporated throughout. Developed in partnership with Woodside Energy, Woodside combines large-format, adaptable teaching spaces with advanced manufacturing laboratories for students and researchers to embrace innovation, design and cutting-edge technology in sustainable energy.
With this building and a deep commitment to social and sustainable outcomes, Monash intends to impart a global impact in academic and learning excellence in concurrence with environmental leadership and industry partnerships.
What's On
Join Grimshaw architects and the faculties of Engineering and Information Technology at Monash University on a guided tour, exploring the building's innovative sustainable design and adaptable teaching spaces. Visitors are also encouraged to visit other Monash Clayton sites and make an afternoon of it!
Images: (1) The Woodside Building for Technology and Design, and surrounding native landscape. Photo: Michael Kai. (2) The Woodside Building western facade and landscape. (3) Tiered collaborative learning and teaching theatre. (4) Multifunctional stairs enabling informal lectures. (5) Informal learning zones. Photos (2-5): Peter Bennetts
Important Details
Time & Date
Sunday 31 July
Open 12pm-4pm
Tours at 12pm, 1.30pm and 3pm
Running for 45 minutes in groups of 25 people
Age Requirements
All Ages
Accessibility
Accessible bathroom
Accessible parking nearby
Fully wheelchair accessible

Location
20 Exhibition Walk, Clayton, Monash University 3800
Contributors
Presented by The Faculty of Engineering at Monash University, The Faculty of Information Technology at Monash University
Grimshaw and Aurecon.