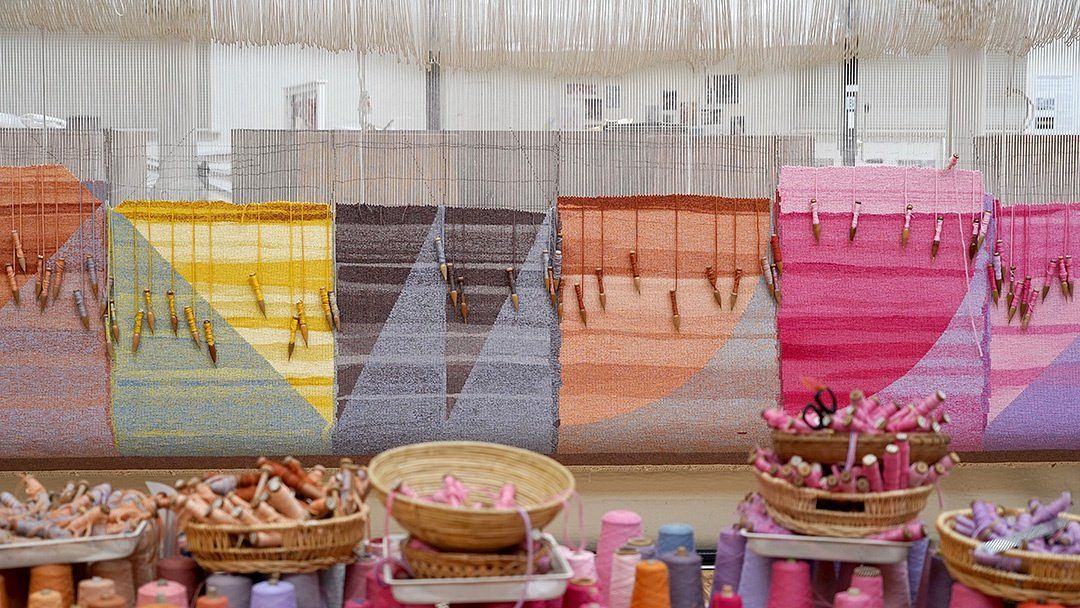 T.J Crouch Architect 1885, Peter Carmichael Architect 1976, William Boag Architects 2001
Description
Established in 1976, the Australian Tapestry Workshop (ATW) is a centre of textile excellence, specialising in the creation of contemporary tapestries in collaboration with living artists, designers, and architects. The ATW occupies a heritage-listed building in South Melbourne that was formerly the Harcourt and Parry Emporium in Park Street. The building was erected in 1885 as a drapery establishment for the Victorian colonist Edwin Harcourt by prominent Melbourne architect T. J Crouch, and was later adapted for use as the Patross Knitting Mills. It is one of the finest commercial buildings of the 1880s in inner suburban Melbourne and a distinctive example of Victorian Free Gothic architecture style.

In 1976, a renovation by Peter Carmichael transformed what had become a derelict, dingy factory space into a spacious, light-filled studio — a perfect home for the establishment of the ATW. In 2001 further renovations were carried out by Williams Boag Architects to include new public areas, the wool shop, gallery space and weaving annex. Today the large windows in the saw-tooth roof provide abundant light to the open and flexible creative space known as the ATW.
What's On
Tour the ATW with one of our knowledgeable Guides. Learn about the history, building and colour laboratory where the yarns are dyed for production. Gain special access to the weaving floor and chat to our weavers about the process of weaving and what's on the loom.
Children's Activities
WEAVING PLAY
Drop in from 10am to 4pm.
Try basic weaving and play with a range of colourful materials including wool offcuts, recycled fabric, and paper.
All skill levels welcome, all ages. Please note this is a self-directed activity.
Images: (1) On the loom, Old Media 2023. Photo: ATW. (2) ATW 2023. Photo: Marie-Luise Photographer. (3) ATW Exterior. Photo: John Gollings.
Important Details
Time & Date
Saturday 29 July
Open access 10am-4pm
Tours run 11am, 1pm + 3pm
Running for 30 minutes in groups of 20
Bookings required
First release tickets: Thursday 6 July, 12pm
Second release tickets: Saturday 8 July, 10am
Sorry, this event is booked out.
ACCESSIBILITY
Partially wheelchair accessible, Accessible bathroom
AGE REQUIREMENTS
All Ages
Location
262-266 Park Street, South Melbourne VIC 3205